With the onset of a new decade, IIT-Bombay is all set to unveil its most popular and one of its kind Annual Social Fest 2020. The 7th edition of Abhyuday's fest features the theme "The Gen-Z Spark" with a sole purpose to resonate with the famous words spoken by Mother Teresa, "I alone cannot change the world, but I can cast a stone across the waters to create many ripples ", to create the ripples across the minds of the generation Z to fight for change and for a better tomorrow.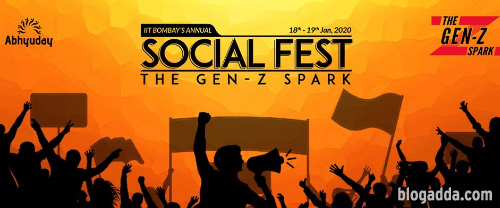 The 7th Edition of Abhyuday will be graced by some of the most prominent personalities whose immense contribution to society has impacted the lives of countless people. They will be a part of the events that Abhyuday 2020 will be hosting. 
Mr. Sonam Wangchuk, a Magsaysay Award winner will grace the talk on Climate Change, Actress Dia Mirza will be a part of the Changemaker series, National award-winning actor Ashish Vidyarthi will be speaking on The Groundwork of Leadership, Maharashtra's most revered IAS officer Tukaram Mundhe will be a part of an Inspirational event, The Journey to Power.

Bestselling author Mr. Radhakrishnan Pillai of Corporate Chanakya and Dr Ujjwal Patni, a Motivational speaker will indulge the audience in deep thought through their event  Power of Thinking. Not to miss out on music that touches the soul, Bollywood singers Prakriti and Sukriti Kakar will be featured in Concert for a Cause. There are several impactful personalities such as Dr Sheetal Amte, Dr. KK Talwar, Popatrao Pawar who will be a part of other events and talks on causes such as Socio Tech, Socio Green, Socio Health, Space Entrepreneurship, Water Conservation, Agrotech Exhibition and many more. Workshops such as Fire Safety, Self – Defence, Zero-budget politics, Emotional Intelligence and Cartooning are being organized to impart life-changing skills to the Audience.
Abhyuday, the social body of IIT Bombay is one of the largest student-run social bodies in the country. It conducts year-long campaigns and events which tackle issues plaguing the society. Visits to Old Age Homes, Slums & Robinhood Army, Masti Ki Paathshala, Versova Beach Cleanup, Powai Lake Cleanup and Career Counselling Campaign have been some of the most remarkable initiatives taken up by the social body of IIT Bombay. Their two-day festival brings a plethora of activities and a complete view of social problems out to the rest of society.

To experience the grand two days Social extravaganza of the 7th edition of the Annual social Fest of IIT Bombay and to be the part of a great mix of competitions, workshops, events and concert one can register and find more details at abhyudayiitb.org/fest_2020. Members of BlogAdda interested to attend write to us at bavity@blogadda.com