In the latest edition of the #ShareTheLoad movement, Ariel asks yet another relevant question: Are we teaching our sons what we are teaching our daughters?, based on an uncomfortable truth that's so true for today. Ariel believes that one of the most important factor today in household inequality is that sons of today should be equipped with the knowledge and attitude to share the load. While it isn't true currently, this needs to change and here we want the sons of India to convert Sundays into SON-days!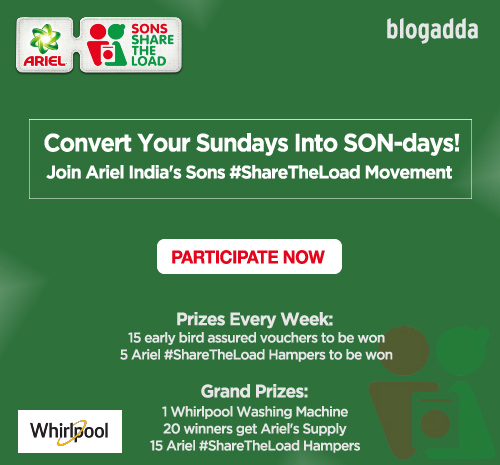 While Sundays are mostly holidays and are meant for everyone to relax, it is very difficult for the mother to do such. Infact, most of the times, Sundays become more hectic for her ensuring the family feels more relaxed and by completing all pending domestic chores. How about trying for a small change? Can the sons take up some tasks from her and help mothers to share the load? Can you pledge to participate equally in household chores?
To enable this change, join Ariel India's sons #ShareTheLoad movement. For the next four Sundays, Ariel will come up with one new task every Sunday and we want the sons to check that out and do that task. If you love your mom and really believe that you would want to help her out, do participate and pledge to share household chores. Blog about how you did the task, what did you learn and share with us your experience. If you are a mom, you too can participate by blogging about how your son got involved for this one.
Let's convert Sundays into SON-days and make it relaxing for everyone in the truest sense! There are lot of rewards your way. Have a look at these:

Prizes Every Week:
15 early bird vouchers for valid entries of Amazon India worth Rs. 300
5 very special Ariel #ShareTheLoad Hampers

Grand Prizes:
1 Whirlpool Washing Machine
20 winners get Ariel's Supply
15 Ariel #ShareTheLoad Hampers

You can start from this Sunday, April 21, 2019 and continue for the next three Sundays thereafter (April 28, May 5, May 12). Participating in all four activities entitles you for Grand Prizes.

Instructions to Follow:
1. Ensure you share photos of your task and photo with your mother in your blogpost.
2. Embed this Ariel film (https://www.youtube.com/watch?v=8QDlv8kfwIM) in your blogpost.
3. The blogpost needs to be of minimum 400 words.
4. Include this line 'I pledge to #ShareTheLoad in household chores in association with Ariel and BlogAdda'
5. The deadline for sharing entries would be the preceding Monday midnight of every Sunday.

Don't just be a Mamma's boy, be Mamma's real SON. Let's start with #ShareTheLoad every Sunday.

Read the Terms and Conditions