First, let us all pray for a minute for the brave CRPF Jawaans who aren't there with us today and their families. 'Service Before Self', is the motto of Indian Army and 'Service And Loyalty' is of CRPF. Param Vir Chakra Awardee Manoj Kumar Pandey said, 'If death strikes before I prove my blood, I promise (swear), I will kill death'. The courage of such men is infectious and fills our heart with prayers and pride.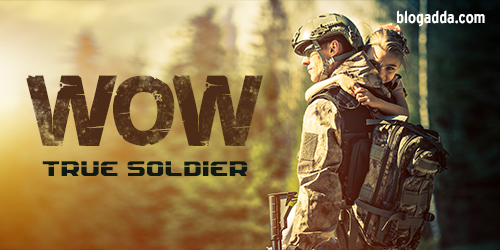 G K Chesterton said, "The true soldier fights not because he hates what is in front to him, but because he loves what is behind him." Very true. And such soldiers extend beyond the ones who 24×7 are at the borders securing us.
While everyone in their own way, fights their own struggle, we have to be immensely grateful to those who do it for others and not just themselves.
This weekend, for #WOW, we want you to interpret 'True Solider' in your own way and write a blogpost in the form of story, poem, fiction or real. Write about someone who has inspired you the most with his/her courage, bravery and loyalty and let us all read such inspiring acts. Go for it.
Also, take this opportunity to write for #BlogToPM if you haven't as yet. This is the time to write what you feel and the steps that should be taken.
Remember to share the blogpost by Sunday midnight to be eligible to be accounted as a valid entry and a chance to get the WOW badge for your blog and social networks.
Request to add this line in your blogpost, 'This post is a part of Write Over the Weekend, an initiative for Indian Bloggers by BlogAdda.' Click on the submit button below to submit your WOW entry. Have a peaceful weekend!