Meterdown is an intercollegiate endeavor organized by the students of BMS and BAF of R.D. National College which is located in the heart of Bandra West, Linking Road, Mumbai.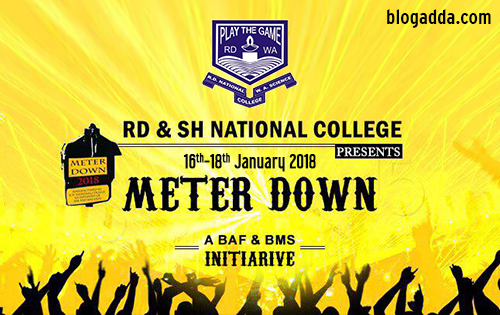 Meterdown is a festival, fete of unanimous students coming across colleges in Mumbai to participate and win the tag of reigning titlist. Meterdown has successfully completed it's 5 years and is now heading for it's the 6th year. Meterdown '19 believes in giving back to society and this year they aim at putting light on the social cause that is Substance Abuse.
It aims at striving in creating maximum awareness about the harmful effects of drugs and other substances by various campaigns. Meterdown'19 is going to be held the 16th, 17th and 18th of January in the college campus itself. The Theme for Meterdown 2018-19 is "THE BIG BRAND THEORY". The unique theme reflects all their events that are Academics, Sports, and Cultural. The theme also provides the students with insights into the Management functions of Brands.
For more details, visit https://www.facebook.com/meterdown.rdnational/
Bloggers interested to attend, do write to us at bavity@blogadda.com