Hello. It's been a long time we have posted for WOW. There are a few things that we were working on and evaluating newer initiatives. A lot of blogger friends have written to us asking to restart this one and here we are. Before checking out the prompt for this weekend, have a look at our new website and do share your valuable feedback.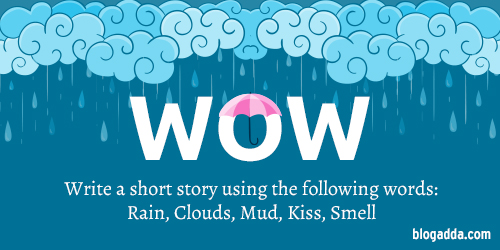 With monsoon kicking in, this weekend, lets write about the many things, the rainy season brings in. The first rains, surely, is a mood changer. We see the clouds warming up and the smell of the first rains on dry earth reminds of many things.
The WOW prompt is, 'Write a short story using the following words – Rain, Clouds, Mud, Kiss, Smell'. Include this words in your blogpost and mark them bold.
As always, you've time till Sunday midnight to share your story and win a chance to proudly display the WOW badge.
You are requested to add the mandate line mentioned below in your post. 'This post is a part of Write Over the Weekend, an initiative for Indian Bloggers by BlogAdda.' Click on the submit button below to share and for your WOW entry to be considered valid. All the best. Happy blogging!