The big relief of successfully completing a huge task at hand is incomparable. When something you have put your heart and soul into nears completion, it is a matter of pure satisfaction. The phrase 'done and dusted' sums up the feeling aptly.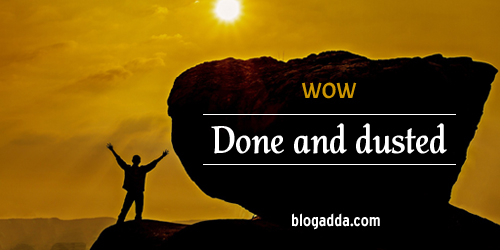 In this week's WOW (Write Over the Weekend) prompt, we want you to tell us about any such project of passion that made you feel accomplished. You can use the words "Done and dusted" in your post.
Remember, you have time only till Sunday midnight to submit your blog posts and win a chance to proudly display the WOW badge on your blog!
Bloggers are requested to add the mandate line mentioned below in their post.  'This post is a part of Write Over the Weekend, an initiative for Indian Bloggers by BlogAdda.' Click on the submission link below for your WOW entry to be considered valid. All the best. Happy blogging!