"Be the change you want to see in the world" said Mahatma Gandhi and he also lived by it all his life. We all have that one quote or saying keeps us going, picks us up when we are down in the dumps. It motivates us to try harder. Sometimes it gives us a reality check and serves as an eye-opener.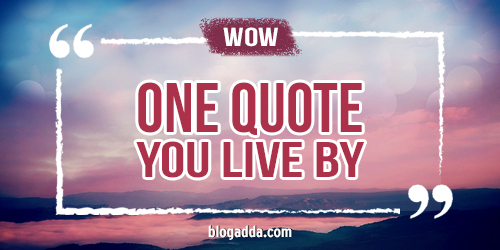 Today for WOW (Write Over the Weekend), we want you to share with us that one quote that you live by and why. What is it about the line that inspires you? Is it something that your grandmother often said or is it something you philosphised?
Remember, you have time only till Sunday midnight to submit your blog posts and win a chance to proudly display the WOW badge on your blog!
Bloggers are requested to add the mandate line mentioned below in their post.  'This post is a part of Write Over the Weekend, an initiative for Indian Bloggers by BlogAdda.' Click on the submission link below for your WOW entry to be considered valid. All the best. Happy blogging!