A relationship is complete when both people involved are committed to each other. But what is a half relationship? The way in which two people regard each other is paramount to decide the status of their relationship. A half relationship is a relationship where the boy/girl are more than friends, but are still to commit themselves to each other. It could be because one person is not ready for it or is unsure or because both have a different focus at that stage in life.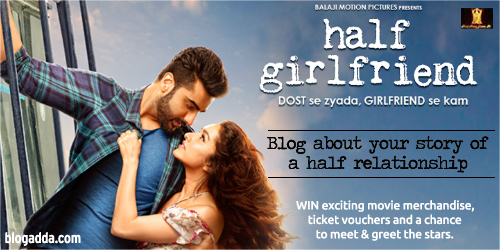 "Dost se Zyaada, Girlfriend/Boyfriend se kam" succinctly sums up the sentiment of a "Half Relationship" Have you been in a half relationship or have witnessed one closely?
BlogAdda in association with Balaji Motion Pictures Limited brings to you the #HalfGirlfriend contest where we want you to blog about your story of a half relationship. It could be your own story or that of a close friend or the one that you have witnessed.
Prizes:
10 winners will get to meet and greet the stars.
Top 10 entries will get couple movie ticket vouchers.
First 30 valid entries will get Half Girlfriend merchandise.
Rules:
Every blog post entry should have a minimum of 400 words.
The post should include the line "I am sharing a Half relationship story at BlogAdda in association with #HalfGirlfriend"
Embed this link of Half Girlfriend trailer in the post.
Share your blogpost on Twitter or Facebook with #HalfGirlfriend & tag BlogAdda.
Only posts submitted through this form will be considered valid.
The last date for submission of your blog post is midnight, 27th April 2017.
Get started and tell us your story on half relationship and win exciting prizes! Click on the button below to submit your entry.

Kindly read the terms and conditions carefully.