"We're all stories, in the end." ― Steven Moffat. Our story starts from the day we are born till we leave a legacy behind. Life is all about Magical Stories.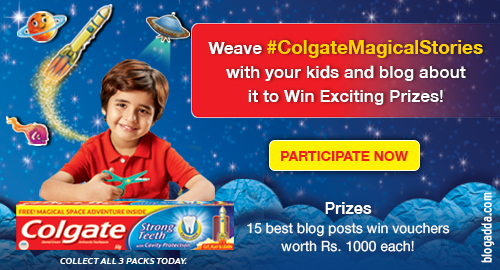 Colgate-Palmolive (India) Limited, has launched the "Magical Space Adventure" special packs for kids to discover a whole new magical universe and create their own stories every day.
The Colgate "Magical Space Adventure" has three different sets based on the 'Magical Space' theme to cut, play and learn – explore the mystical Alien Planet, float around the zero gravity Space Walk and experience the thrilling Space Launch. With more than 15 space characters, these packs will take kids on an adventurous journey into the magical space world. These packs are an opportunity to learn while having fun. The kids can create their own secret universe thereby expanding their creative canvas.
We will send you these packs. Once you receive them, let the child cut, play and learn with you. Encourage them to think and form a story with the characters from these packs. This is a wonderful way to spend time with children while ensuring they imagine something fantastic out of these characters and weave a story.
"Weave #ColgateMagicalStories with your kids and Blog about it"
Prizes:
15 best blog posts win vouchers worth Rs. 1000 each!
Mandates:
Once you are shortlisted, you will receive the product.
Encourage the child to cut out the space characters given inside each pack and  create a story around these special space characters.
Blog about the story the child made in no less than 400 words.
Add pictures of the child with the space characters from the pack in the blogpost.
The blog post should contain the mandatory code:
"I'm blogging my #ColgateMagicalstories at BlogAdda in association with Colgate.
Embed the link of #ColgateMagicalStories video on the blogpost. (The link will be provided very soon).
Share your blog post on Facebook tagging ColgateIndia and BlogAdda.com
The blog posts will be considered valid only if sent through the submission form.
To be eligible for participation you should be a registered member of BlogAdda.com. If you are still not a member, please register @ http://www.blogadda.com/register/
Click on the button below to Register for this activity!
Register Now!