Movies have been a part of media industry since ages. They have evolved over time and created immense magic on the screens. Love for movies is undeniable. They are the biggest source of entertainment, to spread knowledge and awareness as well. They are not held back due to language barriers and have permeated throughout. To celebrate and collaborate with various movie makers, BMM department of SIES Nerul, announces their 14th edition of Frames Film Festival 2017. We at BlogAdda are proud to be their blogging partners!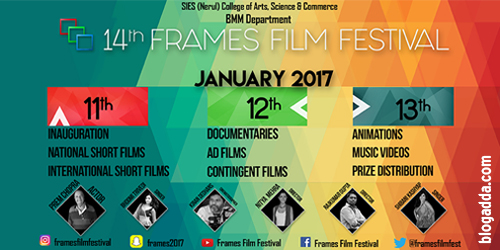 What's Frames Film Fest 2017?
It's a three-day event organized to celebrate the magic of cinema with various film fraternities. The theme is "Trend Setters of Cinema" and this event will be graced by the presence of famous actor Mr. Prem Chopra. The event is held to unify the filmmakers and also create a "trend-setting" revolution. There will be entries of various movies, ads, and short films, that will be critiqued by famous celebrities from the movie world.
What's in for you?
Day one – Inauguration of International and National short films
Day two – Documentaries, Ad films, and contingent films
Day three – Animations and music videos.
When:  11th January 2017 to 13th January 2017
Where:  SIES Nerul, College of Arts, Science & Commerce
For more details visit:
Website – https://www.framesfilmfestival.in
Facebook – https://www.facebook.com/pg/FramesFilmFestival
Twitter – https://twitter.com/framesfilmfest
So, do join in for this event and witness this huge celebration and collaboration in the world of cinema. Let's grow more and become a trend setter in today's fast growing world!