Good morning peeps! Every year in our life plays an eminent role in some way or the other. There are happy times and sad as well. The time when you face success or learn from failures. But, the entire year does promise a bunch full of opportunities and mixed bag of emotions. As 2016 is about to close its last chapter just in a day,  even we are about to bid adieu to it soon.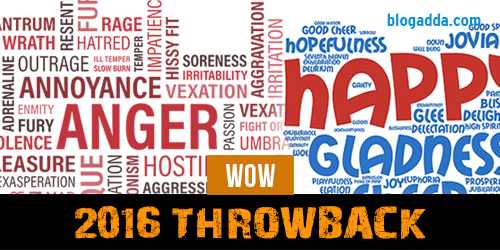 This week's WOW prompt is "2016 Throwback"
This time we want you to write your thoughts upon 2016. How did it go? What did you learn? The special moments that you'd still wish to relive. The aspirations that drove you to achieve and fulfill your dreams. The lessons learned through hardships in this year. Jot down your thoughts about 2016 through words, before you welcome a new year and a new beginning in your life!
Bloggers are requested to add the mandate line in their post and submit their entry through the submission form for their WOW entry to be considered valid. Remember, you have time only till Sunday midnight to submit your blog posts and have a chance to get the WOW badge!
Include this code:
'This post is a part of Write Over the Weekend, an initiative for Indian Bloggers by BlogAdda.'
Good news! There is now an easier way to submit your WOW entries, so just click on the submission link below for your WOW entry to be considered valid.

Every weekend, we give creative writing prompts for you to write blog posts. Hope you enjoy our creative writing