Life is a roller coaster ride that takes you to its high and low moments. It's always in our hands to accept what life has to offer with our arms wide open and not complain. When we learn to see all the moments with a mesmeric touch, your #DearZindagi gives you back happiness in abundance. Life is our mentor which is filled with captivating moments, once we learn to absorb life on a good note, it's absolutely magical. It's always best to snuggle it with love and appreciate for all good things and lessons it taught us!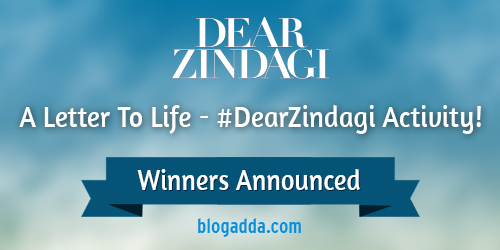 This time BlogAdda in association with Red Chillies Entertainment wanted you to participate in A Letter To Life – #DearZindagi activity, where we had asked you to write a letter to life and show all the appreciation. We were overwhelmed to read such wonderful letters by our enthusiastic bloggers. We thank each and every high on life blogger for participating and bestowing life with the gift of words. All your dedication and zeal towards life, deserves all the appreciation and exciting prizes that we promised to deliver. Here's the list of bloggers who are proud owners of these prizes!
Top 2 Winners Who Gets To Meet Alia Bhatt Are:
Top 20 Winners Who Win Couple Tickets At PVR Are:
Rekha Vijaykumar Mishra
Viditi Bhargava
Jhilmil Bhansali
Anurup Samanta
Prerna Maynil
Congratulations to all the winners, who thanked life and submitted their lovely blog posts. We wish you all the best for your future life endeavours. Keep writing and #CelebrateBlogging!