Birthday has always been special for us. This is one day that we give an extra meaning to. The butterflies start to flutter in our tummy, as the clock ticks to 12 o'clock. Family, friends, colleagues and acquaintances all sprinkle their love and good wishes on this splendid day in our life. It is a momentous occasion that is to be commemorated. Gifts, surprises, wishes from your loved ones, that extra pampering all these happy hues of life adds more significance to birthday.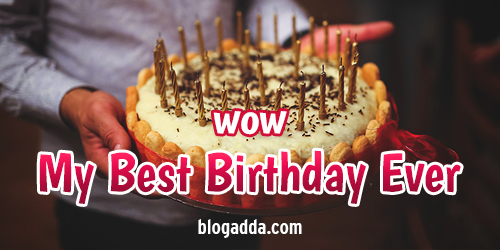 This week's WOW prompt is : "My Best Birthday Ever"
This time in our weekend story writing session we want you to write down about that one particular birthday you still cherish. The events and happenings that often take you down that lane. What made this day more special for you? An unexpected surprise? Flowers at your door or desk? What unique did you do to celebrate this day? Share with us and celebrate that one specific day with the gift and joy of words.
Bloggers are requested to add the mandate line in their post and submit their entry through the submission form for their WOW entry to be considered valid. Remember, you have time only till Sunday midnight to submit your blog posts and have a chance to get the WOW badge!
Include this code:
'This post is a part of Write Over the Weekend, an initiative for Indian Bloggers by BlogAdda.'
Good news! There is now an easier way to submit your WOW entries, so just click on the submission link below for your WOW entry to be considered valid.

Every weekend, we give creative writing prompts for you to write blog posts. Hope you enjoy our creative writing inspiration for this week. 🙂