India has made huge strides in science and technology. Not only are these strides making India proud, the fact remains that most of these advancements are on the back of homegrown talent. To make sure that such talents are encouraged and nurtured, institutes like Visvesvaraya National Institute of Technology organize festivals like AXIS which have competitions, workshops, guest lectures and other events to impart technical expertise to youth across India.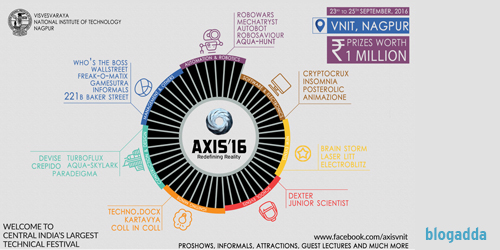 AXIS is the Annual Technical Festival of VNIT, backed by Solar Industries India Limited and in association with The Times of India. It originated as Odyssey, a mechanical engineering exposition in 2000. Over the years, AXIS has evolved to become Central India's largest science and technology symposium. Brand AXIS, having established itself in the itinerary of technical festivals in the country, aims at bringing together the cream of engineering talent from across the country to participate, learn and evolve not only as engineers but also as responsible citizens. It is going to be held from 23rd to 25th September, and will have events related to Automation & Robotics, Construction & Design,  Software & Electronics, Management and much more.
This year, the main attraction is a guest lecture by renowned author Amish Tripathi. Attendees can find the mantra of success in his talks. Events like Robowars, Aquahunt, Autobot, Turboflux, Animazione, GameSutra, Wall Street will challenge the intelligence and presence of mind of the participants.
Apart from these thrilling events, there will be 4 workshops, all designed to teach young minds new skills related to building mobile phones, ornithocopters, mobile apps and more. As the tag line of the AXIS '16 fest says, the organizers wish to redefine reality through not just their events, but also through the social initiatives that are a part of the festival agenda. AXIS '16 will stand against smoking and child labour, and will use the platform to enlighten people about the environment and how we can keep it green. The initiative Colours of Nagpur is aimed at bringing unsung heroes of every festival into the limelight, people like doctors, nurses, policemen and other emergency service providers who work relentlessly to make sure that citizens can celebrate peacefully with their families.
With the VNIT Nagpur team making sure that AXIS '16 is an enriching, challenging and memorable experience for all attendees, we're sure that science and technology enthusiasts will find a lot to learn in this fest from 23rd to 25th September. Make sure you don't miss it!
For more details about AXIS '16 at VNIT Nagpur, check out the below pages:
1. AXIS '16 website 
2. AXIS '16 Facebook page
3. AXIS '16 Twitter Page