Today, brands 'live' on an ever-increasing array of platforms online and offline, facing daily scrutiny from consumers and a variety of audiences. This fact alone makes it imperative for brands to stand for substance, and embody more than just a logo or market positioning. ACEF Forum on 27th September at Westin Hotel-Mumbai, will discuss integrating marketing with CSR Activities and Rural Initiatives, learning all the ideas that have succeeded in bringing a wow on the lips of every customer and stake holder. BlogAdda is happy to partner with ACEF for this event.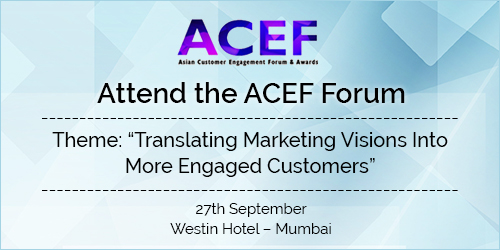 Guided by an Advisory Board with credentials in advanced Customer Engagement work (Branding and Marketing), the ACEF Marketing Capabilities, Rural & CSR Excellence Awards have been developed to recognise the positive values that effective marketing has on an organisation. While other awards are mainly industry specific, the ACEF Excellence Awards celebrate the very best of this profession from both personal and company successes.
The Theme for the forum is: "Translating Marketing Visions Into More Engaged Customers"
Date: 27th September, 2016
Venue: Westin Hotel – Mumbai
Timing: From 11:00 am onwards
This event is bound to enlighten you about the trends in marketing and how to apply it in business, so if you wish to attend the event, drop a mail on info@customerengagement.asia.