Perk up your ears, for it's #PerkyTweets time! Once again, we have hunted in the vast expanses of Twitter and discovered funny, point blank and unique tweets for you. These fine, designer, exclusive 140 characters are curated just for BlogAdda readers. So read and enjoy! Think you can make people giggle, chuckle and more with your tweets? Submit your tweets to us on this link!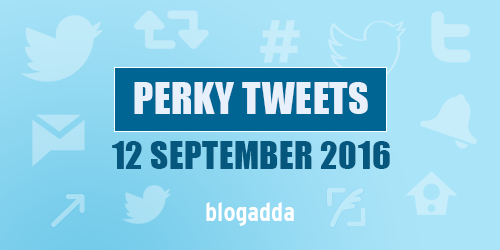 When papad goes abroad for further studies. pic.twitter.com/gnDKT0cEHL

— The *DEVIL* Twin (@beingtweet) September 9, 2016
Female Rat : Why are you not coming in Ganesh Puja?

Male Rat : Aye Dil hain मूषक-ill…!

— Khushamtweet! (@XitijNanavaty) September 10, 2016
The sookha poori is the ultimate unsung hero of the Indian chaat food scene.

— Vinita Mahendra (@_Agathist) September 9, 2016
@blogadda #PerkyTweets #CelebrateBlogging Indians are in awe of 'Gabbar aaya' but Mumbaikars tremble when we hear 'Next station Dadar …

— SUJATA TAWDE (@sujatawde) September 11, 2016
@blogadda #PerkyTweets -Comms St in Bengaluru is the newest cricket pitch in town! –#miamiblues #toseeistobelieve pic.twitter.com/Ep34c7wmyw

— Princesas Universe (@PrincesasUni) September 10, 2016
@blogadda
Yogeshwar Dutt must get a Nobel Prize in physics for going back in time and winning a Silver medal in 2012 Olympics.#PerkyTweets

— Chintuuu! (@mazedaarcat) September 11, 2016
"Coldplay tickets are too expensive"

"If you do charity work, they're free"

"25,000 is not that bad!"#ColdplayIndia

— Daniel Fernandes (@absolutelydanny) September 10, 2016
iPhone 7 has two cameras so that you can capture 'Ek taraf maine Dove lagaya or doorsri tarah normal soap' girls perfectly.

— Nerd Stark™ (@itsaashuu) September 7, 2016
Every time I see Indian men tweeting of "women are always after money" I imagine them sitting on top of all the dowry they got.

— Moon (@moonsez) September 12, 2016
You know a celebrity career is officially past expiry date when you get to hear about him/her as a potential participant in next Bigg Boss

— Siditious Devious (@Calvinator_18) September 12, 2016
That's the khazaana that we got for you this time. Until next time, keep reading these and LOL over them. Have a great tweet? Submit it by tagging @blogadda in your tweets with the hashtag #PerkyTweets!