Ever had a Eureka moment? A Eureka moment is the moment of clarity when an idea strikes, a moment when something finally makes sense. Anyone can have a Eureka moment and at any time, especially when it is least expected. The Entrepreneurship Cell (E-Cell) of IIT Bombay is hosting the Eureka! 2016 challenge, of which BlogAdda is honoured to be a partner.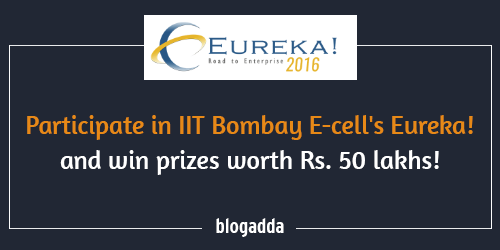 Eureka! is a business model competition where people from all walks of life can come and present their business ideas. If the idea is selected then the team behind Eureka! will help you develop the idea's potential, as well as draft a B-Model, and will eventually allow you to present the idea in front of an esteemed panel of investors for prizes worth upto INR 50 lakhs! This prize money is bound to come in handy when setting up your own business. Eureka! is ranked as Asia's largest Business Model competition and to top it off, it is accredited independently by both CNN and Thomson Reuters.
If you've had your Eureka moment which now needs to be fueled for take off, or have a business plan that solves a problem intelligently, then register to participate in Eureka! 2016. Who knows, maybe you'll be the next Steve Jobs or Elon Musk or Sachin Bansal. The world needs your disruptive ideas! So head over to the homepage of Eureka! 2016 to register now.
The E-Cell of IIT Bombay is a non-profit organization that is run by students of IIT Bombay. The key purpose of the cell is to promote the entrepreneurial spirit amongst the students body. You can learn more the organization at the E-Cell, IIT Bombay website. Also, find out more about Eureka! 2016 at its website.