The Internet & Mobile Association of India (IAMAI) is back with the 2nd Edition of its India Affiliate Summit. The event will take place on 1st & 2nd September, 2016 at The Leela, Gurgaon. The aim of the summit is to discuss innovations in the field of affiliate marketing and to understand its implications. BlogAdda is proud to partner with India Affiliate Summit 2016.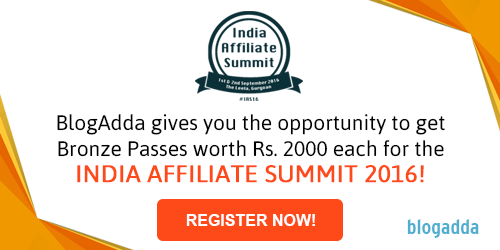 The intention of the second iteration of the India Affiliate Summit will be try to bring together the Affiliate Marketing industry. It will be a two day opportunity for attendees to network with affiliates and brands alike. There will also be educational sessions on the latest industry issues, as well as networking opportunities for affiliate marketers. The Affiliate Street is the main attraction this time around, which will give marketers a chance to immerse, converse and disperse insights on performance-based marketing.
The list of speakers at the summit include the who's who of the industry, such as:
1. Parul Bhargava – CEO of vCommission
2. Aasheesh Marina – Search Quality at Google
3. Aashish Bhatnagar – Head of Mobile & Affiliate Marketing Shopclues
4. Abhilash Premanand – Mobile Marketing & Digital Marketing Specialist at BankBazaar.com
5. Amit Sharma – Head of Digital Marketing & E-commerce at Max Life Insurance
6. Ankur Singla – Founder and CEO of Helpchat and OneDirect
7. Anshul Srivastava – Head of Digital Marketing at BigBreaks.com
8. Anurag Gupta – Founder and MD at DGM India
9. Ashwiny Thapliyal – Regional Head of Sales India & Southeast Asia at TUNE
10. Harsh Agarwal – Blog Scientist at ShoutMeLoud.com
11. Swati Bhargava – Co-Founder at Cashkaro
These are just a few of the 48 speakers scheduled to speak at the event. Check out the full list at the India Affiliate Summit 2016 Speaker page.
We at BlogAdda would like to share this opportunity with bloggers, as this will be a great chance to learn about the innovations in the industry, as well as be at the forefront of change. There will also be plenty of opportunities to network with brands, Ad networks, agencies, publishers, in addition to fellow bloggers and affiliates. We're giving out Bronze Passes for the Summit, worth Rs. 2000 each, to interested bloggers! All you have to do is hit the button below to register.
Click To Register!
All you have to do is write a blogpost about your India Affiliate Summit experience once the event is over and submit it to us! The IAMAI is non-profit industry body that represents the interests of online and mobile value added services industry. IAMAI prides itself on its core value of presenting a unified voice of the businesses it represents to the government, investors, consumers and other stakeholders. IAMAI's most important objective is to expand and enhance the online and mobile value added services sectors.
You can learn more about the India Affiliate Summit 2016 at the event website, or find out more about IAMAI at their website. Register now, because we have limited passes to give out!