[wpdevart_countdown text_for_day="Days" text_for_hour="Hours" text_for_minut="Minutes" text_for_second="Seconds" countdown_end_type="time" end_date="19-08-2016 23:59″ start_time="1471596447″ end_time="2,9,41″ action_end_time="hide" content_position="center" top_ditance="10″ bottom_distance="10″ ][/wpdevart_countdown]'What do you want to be when you grow up?' Is a question that every child is asked. This question is enough to spark dreams among kids, and put them on the path of fulfilling their aspirations. As we grow up, some of us forget the lofty dreams we had and look for more sensible options. On the other hand, the ones who get the right guidance fly high and achieve what they set out to do. We want to hear all about your dreams and the guidance that helped you along the way for the #AdviceThatMattered activity in association with Stoodnt!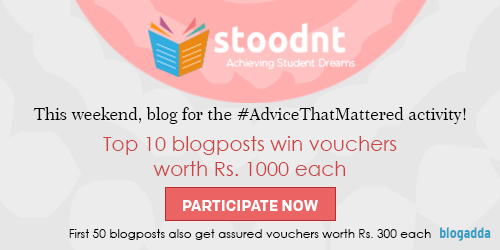 We at BlogAdda believe in following your dreams, and we'd love for you to share stories of your fulfilled dreams and a tribute to people who helped you reach your goals. Blog for the #AdviceThatMattered activity at BlogAdda in association with Stoodnt, and win exciting vouchers!
For this activity, tell us the about the dreams and aspirations you made a reality, and thank the people who helped you, guided you and supported you in this journey. Just like Stoodnt, which makes your American dream come true with perfect guidance and counselling. This is the THE opportunity to make your readers believe in the power of dreams and pay back the important people that increased your confidence, removed the obstacles in your life and made your dreams a reality!
PRIZES:
Top 10 blogposts win vouchers worth Rs. 1000 each!
First 50 blogposts get assured vouchers worth Rs. 300 each!
Click on the button below to participate!
Mandates for the activity:
1. The word limit for every blog post is a minimum of 400 words.
2. Please include the line, "I am blogging about my dreams and the people who helped make them true for the #AdviceThatMattered activity at BlogAdda in association with Stoodnt."
3. Only blog posts submitted through this form will be considered valid.
4. The last date for submission of this blog post is midnight, 21st August 2016.
5. One blogger can write a maximum of 2 blog posts for this activity.
6. Post at least 1 tweet tagging @blogadda and @teamstoodnt, with the hashtag #AdviceThatMattered and share the tweet URL in the form.
Go ahead, write a dream blogpost, 'coz we're waiting to read your blogs on the weekend!