As the world moves to virtual platforms, all of our transactions have also been shifted to the digital world. That applies to marketing and communication as well. Digital marketing, which was a new option to be explored a few years ago, has now become a must have strategy for businesses big and small. And learning digital marketing from the best is a surefire way to achieve success in this domain. To this end, UpGrad, an online higher education platform, presents the Digital Marketing Conclave in Mumbai, with their exclusive presenting partner Click Asia, Event Partner Social Samosa, while BlogAdda is happy to be their Outreach Partner.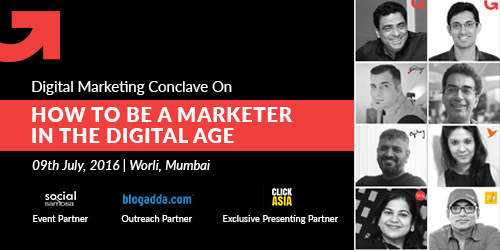 This sessions and speakers in the conclave are all aimed at making digital marketers future ready. The Digital Marketing Conclave boasts of industry stalwarts like Ronnie Screwvala, Ashok Lalla, Arunabh Kumar, Pankaj Parihar, Kavita Jhunjhunwala, Bidisha Banerjee, Kunal Jeswani and Mayank Kumar as speakers and panelists at the Conclave, to be held in Mumbai on the 9th of July.
The Conclave will deal with all the topics that a digital marketer needs to know about – trends in digital marketing, predictive talks about where this field is headed, the opportunities in digital marketing and the tools needed to be the best in the game.
BlogAdda is giving its bloggers an exclusive opportunity to attend this Conclave. If you're interested in digital marketing and wish to know more, if you're an entrepreneur who wishes to harness its power for your brand, or even if you want to make digital marketing a part of your online strategy, this Conclave should be on your must attend list. What's more, you can even get access to the speakers on the day of the Conclave and talk to them about digital marketing and get exclusive content for your blog!*
Here are the details of the Digital Marketing Conclave:
Date: July 09, 2016, Saturday
Time: 3 – 6 PM
Venue: Hall of Culture, Nehru Science Center, Worli, Mumbai.
If you're interested, drop us a mail at bavity@blogadda.com with the following details:
Full Name
Phone Number
Twitter handle
We'll get back to you once we receive your details. Apply now, because we have limited slots available on a first come, first serve basis. See you at the Conclave!
For more information, check their Facebook event page here.
*The speakers meeting attendees is subject to their availability.