Why do we need Father's Day? Because it turns the normally distant and formal relationship with fathers all mushy and loving, and we definitely need more of that! As we grow up, we refrain from being affectionate with our fathers, and dads also feel awkward to express their love for their kids. We ask 'Why?' If moms can get hugs, so can dads! So last week (which was Father's Day weekend), our #AddaTales prompt did just that – prompt you to go hug your dad! We asked people on Twitter to start a story that will end with 'I hugged my dad'. Read below the best story that we saw, a story about love between a father and a son.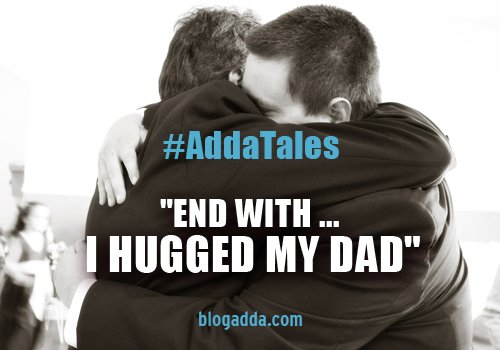 In 2008, I was in the stadium with my father. It was a great evening to watch a cricket match. But the reason to watch the game wasn't just the epic clash between Ind vs Aus but something else too. It was a special day. It was Paa's birthday and we both wanted India to win the match. So that we can party hard after that. It was like reliving his youth for dad. Because more than the clash, he wanted to see the players he grew up watching. Slowly but surely all of his favourites were retiring. And seeing him smile after watching them was bliss! He was watching Sachin, Ganguly, Sehwag, Ponting, Lee etc. live probably for the last time. So it was a very special day. Dancing after sixes, cheering for fours, appealing with the bowler and jumping after wickets. My dad was young again!
He was celebrating cricket. He was reliving his youth. I was appreciating myself for bringing him to stadium. I was supporting India, but he was just happy to be there and watch them play. "You're lucky to watch them live!" he said to me. But since he he also had an Indian heart, he wanted India to win the game. As time passed, the match became intense. With Sachin gone and a huge total to chase, it was getting tough. "Who is this Kohli? These new guys will never last!" "Not just Kohli there is Yuvraj too. So still there is lot of hope", as I said that, Yuvraj hit 3 6s to a leg spinner.
The required rate came under 6 r.p.o but we lost Yuvraj. We needed 14 off 3 overs with 3 wickets in hand. Dad was tensed. He knew what Lee was capable of. And a small and lean looking Jadeja must be afraid. "Who is this kid?" He thought the match didn't need to go to the last over. And with 4 boundaries in an over the young guns announced the start of a new era.
With a spark in his eyes my dad cheered. "Cricket is in good hands" he thought. Paa had lost hope and was not even watching the game. Then Kohli hit two 4s to Lee and the game was alive again. With nothing else to say I hugged my dad.
So this was the sweet, sentimental and sporty #AddaTales of the week! Hope you enjoyed it. Fathers are truly the best things that can happen to us, and we should use every day to show our gratitude for it. This week will also see another awesome #AddaTales prompt on BlogAdda's Twitter account, so stay tuned and write your heart out!