'We do not inherit the earth from our ancestors; we borrow it from our children.'
We call nature our 'Mother', but do you really think we're treating her like in a way that a mother deserves? Today, we are behaving with Mother Nature with utmost disrespect – using up all her resources, killing off forests, rivers and entire ecosystems in our greed for more money and more products. We keep forgetting that we have only one Earth, and this is the planet that is going to sustain our future generations. The good news is that the power is still in our hands, more specifically in the hands of future generations. Blog about 'How to teach our kids to press Ctrl+S for nature?' for the Shortcut Safaari weekend activity and win movie tickets!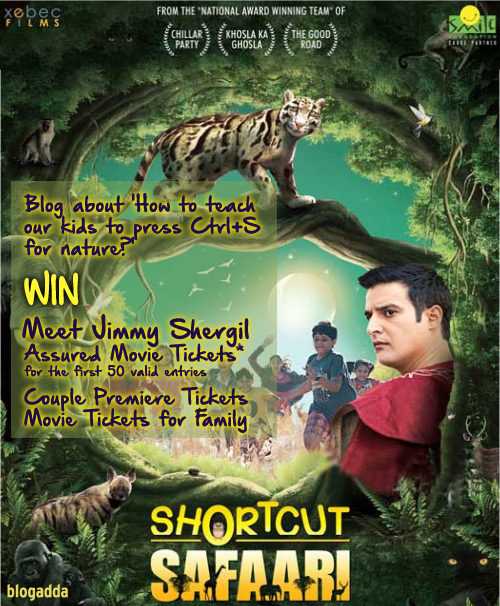 We see the evidence of a changing planet every day. Rising temperatures and sea levels, erratic behaviour of the weather, species going extinct at a scary rate, unbreathable air in most of our metro cities – these are signs that Mother Nature is giving that something is wrong with the way things are going. Logic tells us the speed at which we are messing with nature's balance is unsustainable for long. Do we hear you thinking 'What can we do about it?' The answer is start pressing CTRL + S (Save) on nature in your own life and also teach kids to do the same! Each of us can save nature in our own small ways, and we want to know which ways you'll teach kids! Children are the future and the ones who will be most affected by any damage done to nature, so it is important that you teach them how to save nature!
So participate in the Shortcut Safaari weekend activity at BlogAdda, and tell us how you'll remind children to save nature. Not only will you win movie tickets and premiere passes, you'll also show the next generation of children the way to maintaining the beauty and bounty of nature for a long time to come.
Prizes:
Top 3 blog posts get invites to the Shortcut Safaari premiere!
Next 5 best entries get family movie tickets
First 50 unique valid entries get assured couple movie tickets
One entry will be judged "Celebrity favourite" by Jimmy Shergill and receive a special surprise gift!
Click on the button below to submit your entry!
Mandates for the activity:
1. The word limit for every blog post is a minimum of 400 words.
2. This activity is open only for Indian bloggers.
3. Please include the line, "I'm blogging about how I'll remind kids to press Ctrl+S for nature for the Shortcut Safaari weekend activity at BlogAdda."
4. Only blog posts submitted through this form will be considered valid.
5. Share the blog post written for this activity on Facebook and Twitter and share the links of the posts in the form above.
6. The last date for submission of this blog post is midnight, 10th April 2016.
7. One blogger can write a maximum of 2 blog posts for this activity.
This weekend, do your bit for nature and your future generations, and enjoy a movie outing for your efforts!