Summers are not really welcome for most people in India, because who likes getting baked by the hot sun? Still, the arrival of spring is a happy occasion, because it means that Holi is around the corner! The gulaal filled waters in pichkaris will spill all over the homes with the most cherished Holi songs of Bollywood playing in the background followed by some thandai to cool us down in these hot summers. So in this week's Buzzing Blogosphere, we bring before you all the colorful happenings and the essence of this festival that bloggers have already started celebrating through their blog posts.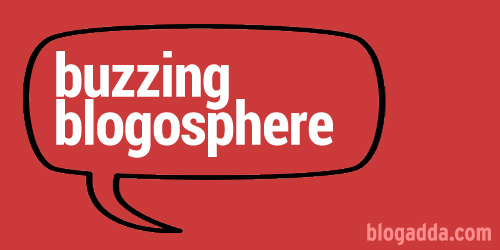 Take a look at how the festival that truly unites the diversity of India is celebrated in different ways throughout the country. WheresMyPandit  summarizes beautifully how each state of this country takes on a unique hue on Holi and gives the celebrations a different flavour altogether. 
"The most famous and interesting Holi celebrations take place in Barsaana, a town situated near Mathura. Radha is believed to be from Barsaana and Krishna from Nandgaon, hence men from Nandgaon come to Barsaana to play Holi where women are armed with sticks to beat them instead of playing with Gulal. Hence it is known as Lathmaar Holi. 
If you want to really play with colours and water and enjoy delicious savories at the same time, then Vrindavan and Mathura are the places for you. There are Holi processions and the sight of the celebrations at Banke Bihari and Dwarkadhish temples. Vishram Ghat is an iconic point where you shall catch priests making Bhang."
Eco friendly Holi is a great and a considerate way to celebrate the festival. Not harming people, sentiments and most importantly the environment can make you lift your head up in pride. So make sure you have a colourful heart with colourful moods. Here are 5 ways in which you can celebrate an eco-friendly Holi. The Better India will tell you more about how you can go about it. 
"1. Make your own colours
As Verma suggested, making colours is not that hard and can be done instantly. If you don't want to spend weeks (or it's too late!) to dry flowers to make colours, then use simple turmeric, chandan and henna to make various colours. Mix, match and use your imagination to make the most unique colours.
2. Play Tilak Holi
The Holi festival is more about spreading love, joy and happiness rather than colouring every single person you meet. Play a different holi this year and put a simple tilak on your loved ones. Imagine how much effort and water it will save once you are done playing with colours."
Holi is not just about blasting 'Balam Pichkari' and dunking your friends in a pool of coloured water. This festival carries a lot of significance and has many stories associated with it, which are relevant even today.  Jeevan Pradhan will take us through the 'about' of Holi, which will allow you to appreciate the celebrations even more. 
"Calculating the Day of Holi
There are two ways of reckoning a lunar month- 'purnimanta' and 'amanta'. In the former, the first day starts after the full moon; and in the latter, after the new moon. Though the amanta reckoning is more common now, the purnimanta was very much in vogue in the earlier days.
According to this purnimanta reckoning, Phalguna purnima was the last day of the year and the new year heralding the Vasanta-ritu (with spring starting from next day). Thus the full moon festival of Holika gradually became a festival of merrymaking, announcing the commencement of the spring season. This perhaps explains the other names of this festival – Vasanta-Mahotsava and Kama-Mahotsava."
Nobody knows how to celebrate festivals better than us Indians. We go all out in all departments and make a huge production out of it. Holi is no exception to this rule. So team AllStudyX will tell us about the food, drinks and more about how Indians plan and celebrate Holi.

"The basic idea of celebrating this festival is to show the mythological and philosophical view but it is more than that, as it shows you the urge to live life at fullest. India is known for its festivals and multi-cultured society, where everyone enjoy these festivals across religious boundaries.
Holi has the special place in this arena of festivals as it has that unique identity of expressing freedom, meeting people forgetting all odds of life, fun, it has that unique character of Oneness and harmony and last but not the least showing solidarity with everyone."
Holi is such a fun festival, can fun facts be far behind? We may know some of the mythological stories told to us by our elders, but there are some trivia that you must not be aware of. Shrishti Verma from KalaaHut will take us through them.
– Holi is also known as the festival of colours where everyone shares joy, happiness and love.
– Holi has its origin in India being a spring festival.
– It is globally known festival and is celebrated by Hindus as well as by non-Hindus.
Water is a scarce and precious resource and we must do all that we can to conserve it. But we still can't wonder at the irony of the fact that we waste water and pollute our rivers all year round and remember to save water only when Holi approaches. Activists have demanded to shift the celebrations to winter. No really. Sandeep Kadian gives us all the details
"Holi is currently celebrated on the last full moon day of the lunar month Phalgun which usually falls in last week of February or during March.
A group of activists, led by veteran activist Haryali Ram met PM Modi earlier today and placed their demand in front of him. As per the activists, celebrating Holi during the winters will drastically reduce the amount of water consumed as many people strictly avoid any contact with water during the winter season."
If you don't like playing Holi with artificial colours, you don't have to stay cooped up in your home. You can still fall in love with colours and celebrate Holi with all the glory that nature has put into the world. You can use the long weekend to take off for a trek which will you show you the colourful side of nature. The GypsyShack explores the most colorful destinations to celebrate Holi
#1. Valley of Flowers, Uttarakhand
Arguably, India's most colourful trek, the Valley of Flowers, a part of the Pushpawati Valley, is nestled in the upper reaches of the Bhyundar Ganga in Garhwal. Just after the outbreak of the monsoon, the entire valley comes alive with a melange of flowers. Orchids, poppies, primulas, marigold, daisies and anemones carpet the ground. Sub-alpine forests of birch and rhododendron burst into bloom. Wild rose bushes and wild strawberries add to the riot of colours. Butterflies and wild bees flutter about fervently, their feet and wings stained with nectar and golden pollen. The park is also home to numerous birds and rare species like the blue sheep, Asiatic black bear, and musk deer among others. Grim pleasure, we know, but we are so glad that Smyth and co. lost their way during that fateful expedition. Atleast they chanced upon this fairytale kingdom!"
Gunjan Upreti from Tripoto will tell us some interesting things about the festival of Holi that you probably have not heard before. She takes us through the celebrations in different countries and what separates the celebrations from each other, and also what binds them in a common thread.
" Experience Traditional Holi in Vrindavan and Mathura.
Imagine celebrating Holi 40 days before the actual festival? Yes. In the temple towns of Mathura and Vrindavan, Holi celebration commences a month before Holi i.e. on Vasant Panchami. The Sri Krishna Janmastham in Mathura organizes a renowned show in the week just before Holi. Also, there is the week-long celebrations at Shri Banke Bihari Mandir in Vrindavan which attracts people from all over the country."
Ask anyone why they play Holi and each one will have a different reason. From simply enjoying the festive mood to very religiously living up to the traditions and culture of India, Holi gives you many reasons to celebrate. ShivNadarSchool blog talks about the many hues of the Holi festival.

"This festival of colours also has multi-hued stories, legends and facts associated with it. In a land as wide and pluralistic as India, we often end up finding multiple rituals, tales and narratives behind a single, common celebration. Holi is no different. At its very basic, it is an agricultural festival, ushering in the spring season. However, like most other Indian festivals, it finds its roots in mythology, with several rituals unique to different places in India. In this post, we revisit the significance of Holi and the many different forms in which it manifests in the country."
We celebrate Holi every year with the same excitement and zest and yet discover something new within ourselves, festivals or people in general. So what is it that makes this year's Holi different with you? If you have a great piece of information on Holi that we missed, let us know in the comments and we will share it with the world.