Most of us get the freedom to choose our own profession, and when we do, work ceases to be a burden and becomes a blessing instead. Everyone's ambition is to excel in their chosen profession. But wouldn't it be great if you could exchange your profession with someone? Think about it and write it for this week's WOW prompt!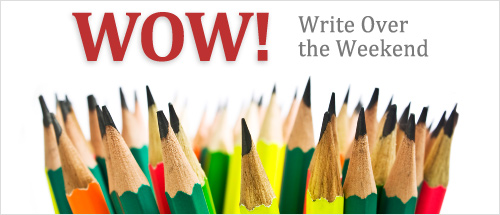 This week's WOW prompt is – 'Dream Profession'
We sometimes find ourselves envying someone because of their profession. Be it actors or models, CEOs of Fortune 500 companies, or even the mythical mattress tester who gets paid to sleep and check the quality of mattresses! It can happen with the profession of your spouse, brother or a friend. It's a profession that you would love to try out, at least for some time. So this week in our WOW prompt 'Dream Profession', we want you to talk about the profession you're currently not into, but would love to exchange with someone. Tell us who you'd exchange with and why, what would you do and how you would make the most of your time in your dream profession. So take a break from your job this weekend…and dive into another one!
Remember, you have time only till Sunday midnight to submit your blog posts and have a chance to get the WOW badge!
Include this code:
This post is a part of Write Over the Weekend, an initiative for Indian Bloggers by BlogAdda.
Good news! There is now an easier way to submit your WOW entries, so just click on the submission link below for your WOW entry to be considered valid.

Every weekend, we give creative writing prompts for you to write blog posts on! Hope you enjoy our creative writing inspiration for this week. 🙂
All those who are featured in WOW can now flaunt the WOW badge on your blog. Download your badge now!