The Singularity U India Summit was held in Mumbai on the 26th and 27th of February, in association with INK Talks. Blogadda was associated with the event and bloggers from Blogadda were amidst the audience soaking into all the conversations. Some of the finest minds from around the world were on stage.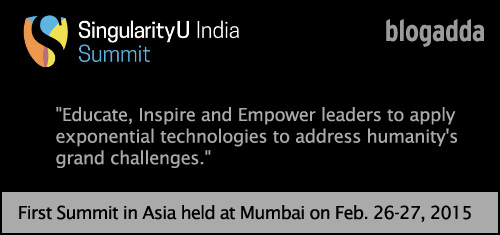 A solution to a problem, a perspective that is different and a platform that is an insightful one, INK truly brings conversations alive. SingularityU or Singularity University held a Summit in India in partnership with BlogAdda and here is what it scaled up to.
Their mission is to educate, inspire and empower leaders to apply exponential technologies to address humanity's grand challenges. That is what the Singularity University's website proclaims in a bold response to a question that it asks itself: "What is Singularity University?" And that is exactly it.
Founded in 2008 by Ray Kurzweil and Peter Diamandis, names with a stellar reputation, Singularity U is fast becoming a name unto itself. The University is situated in the NASA Research Park, Mountain View, California. "It began as an annual 10-week supplemental summer program and has since grown to an innovation pipeline with a conference series, an array of classes, an incubation lab for startups and corporate teams, and a global alumni network", as their Wikipedia page says.
'Singularity', the word, refers to that point in time in the future when technological progress led by machines will design their replacements and enhancements at such great pace, that they outstrip humans. Machines and technology thus reach a point of having more power in them than people do.
Now imagine a university going by this name with some of the best minds working on this idea behind it, while being situated at NASA Park. The university is doing some pathbreaking work and approaching learning through a different road.  The label that comes up for most of the work that is getting done is this: 'exponential'.
Problems that have scale, fondly called 'grand challenges', are attempted to be scaled using the power of 'Exponential technologies'.  Exponentially accelerating technology solutions that are impacting individual verticals such as Finance, Medicine & Health Care and Manufacturing. Each of these verticals is used for channeling technologies to find solutions to problems at scale. Like global poverty, hunger, water crisis, health etc.
Peter Diamandis, the founder of SingularityU was there, and so was Rob Nail, the CEO. Brad Templeton's presentation on the future of networks and cars had the audience in splits, while Brock Pierce's superlative presentation on Bitcoins got people thinking of a new form of money. Sanjay Sarma from MIT brought the RFID chip's story closer home. Stefan Sagmeister roasted design elements from architecture into the audience and Neil Jacobstein's perspectives and examples from the world of AI were downright jaw dropping. There were several others. Kent Langley spoke eloquently on Big Data and exponential organisations too.
Jonathan Reiber's take on Cyber Security had the audience wondering when did they last changed out passwords and kept their digital assets safe. All in all, an awesome two days. All of this of course was hosted by the Keynote speaker at WIN 15, Lakshmi Pratury, Founder & CEO, INK. Lakshmi has the knack of bringing together some of the best minds and helping thought levels in others soar. Her passionate curation of the best stories and minds makes INK Talks an event to look forward to every year. The partnership with SingularityU only takes that curation to a new height.
Check out some tweets about this path breaking event below:
#SUIndiaSummit kicks off on a musical note with a beautiful melody by @shantanumoitra pic.twitter.com/cyHJo14CAk

— SingularityU India (@SUIndiaSummit) February 26, 2016
"Goodbye liner thinking, hello abundance!" @PeterDiamandis has the audience gripped at #SUIndiaSummit pic.twitter.com/ItdFKRy9uD

— SingularityU India (@SUIndiaSummit) February 26, 2016
"Imagine 8 billion connected minds in the next 5 years" @PeterDiamandis #SUIndiaSummit pic.twitter.com/NJuDYAW95w

— SingularityU India (@SUIndiaSummit) February 26, 2016
.@PeterDiamandis is taking us through one helluva ride of exponential growth. Let's all think like that rather a linear one. #SUIndiaSummit

— Nirav Sanghavi (@nirav) February 26, 2016
https://t.co/z4XMuvG456 #SUIndiaSummit Boston Dynamics

— Marconi Pereira (@marconipp) February 26, 2016
'Take an unskilled manufacturing labourer & get him to teach a robot what's to be done & come next day, teach something new!' #suindiasummit

— Kavi (@_Kavi) February 26, 2016
RT SUIndiaSummit #SUIndiaSummit bradtem takes the audience on a roller-coaster ride through #VirtualReality and #I… pic.twitter.com/VW0unP5xwZ

— Barbara Pollack (@dirfooddrink) February 26, 2016
The event had people connecting in from around the world using BEAM, the telepresence robot. Technology was not only in the airwaves. It was also moving about and talking to you. Geography was truly history! SingularityU India Summit is just the beginning, there will be many others that will advance our knowledge about the future 'exponentially'! Keep an eye out for its future ventures in India!