Our friends are the real charm of our lives. They are people who fill the gaps at times when you least expect it and in the best of ways. We meet a lot of people, but only a few end up becoming our friends. Some friends we like for their maturity, and some endear themselves to us with their quirkiness. Which friend do you look at and think, "That's my quirky friend!"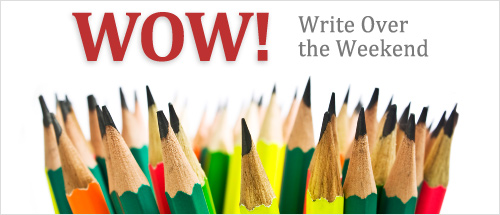 This week's WOW prompt is – 'My Quirky Friend'
Friends come in all shapes and sizes, but the quirky friend is the one who entertains you with their antics and cheers you up. You may not always agree with them or even think they're crazy. And it's also true that your best memories will be with them. They do insane things and effortlessly keep everyone around them happy and cheerful, sometimes unintentionally 😉 This week in our creative prompt 'My Quirky Friend' we ask you to give an ode to this friend. Send us a creative post on the quirkiness that you love about your friend and how it always keeps your bond strong.
Remember, you have time only till Sunday midnight to submit your blog posts and have a chance to get the WOW badge!
Include this code:
This post is a part of Write Over the Weekend, an initiative for Indian Bloggers by BlogAdda.
Good news! There is now an easier way to submit your WOW entries, so just click on the submission link below for your WOW entry to be considered valid.

Every weekend, we give creative writing prompts for you to write blog posts on! Hope you enjoy our creative writing inspiration for this week. 🙂
All those who are featured in WOW can now flaunt the WOW badge on your blog. Download your badge now!