Every blogger has a different story about how they started blogging, but most bloggers are in it for the passion. After you've been blogging for a certain duration, your thoughts naturally turn to monetizing your blog by getting involved with brands. While brands are now open to the idea of promoting their products through blogs, there are certain ways to do it. And ace Digital & Marketing Advisor Ashok Lalla is here to do it.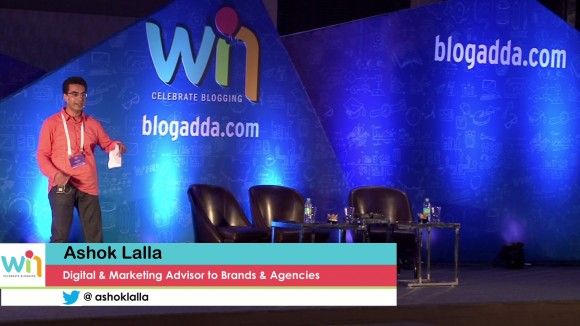 Ashok Lalla's session at #WIN15 was titled 'BRANDS & BLOGS: PERFECT BEDFELLOWS' and Ashok Lalla gave bloggers all the ahem…skills needed to be a good, efficient bed fellow. He shattered quite a few myths about trending topics and the influence they bear over a brand's actual market standing. Ashok advised bloggers to know their niche and stick to it, as even a personal reputation is built by standing up for something over a period of time.
There a lot many things that gave us food for thought during Ashok Lalla's talk, but the advice we liked the most was to think like brand owners and consumers and not purely as bloggers. Don't miss the video of Ashok Lalla's full session at #WIN15 which was peppered by laughs and applause. Before you click on the video below, here's a gem from his talk-
"If you are a cow, be the best cow you can be and give the best quality milk that you can give. Don't try to chew meat, it will give you indigestion" Wondering why he said that? Watch the video below!
We hope you enjoyed watching Ashok Lalla's disruptive #WIN15 session. Subscribe to BlogAdda's YouTube channel so you don't miss more such amazing videos. See you there!