"Words are, in my not-so-humble opinion, our most inexhaustible source of magic. Capable of both inflicting injury, and remedying it." Thus spake the wizard Albus Dumbledore in Harry Potter. We couldn't agree more, as we believe that words set us apart from other species and make us come together as 'mankind'. So which are your favourite words? Tell us in our weekend creative writing prompt – WOW.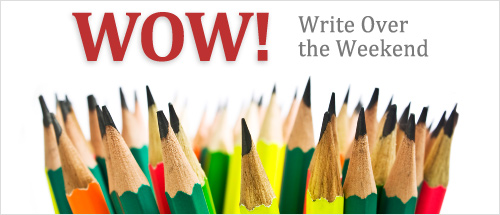 This week's WOW prompt is – 'My 3 favourite words and why!'
Technically words are just shapes on a page or sounds that we make. But they have the ability to evoke powerful feelings in us. So tell us your 3 favourite words and why you chose them from among the thousands of words we know. They could be words that are related to happy memories or places, or a word that evokes a certain feeling in you. Or maybe you just like the way they sound. Come on, we want to know your happy words! Use this week's WOW prompt and write an ode to the words close to your heart.
Remember, you have time only till Sunday midnight to submit your blog posts and have a chance to get the WOW badge!
Include this code:
This post is a part of Write Over the Weekend, an initiative for Indian Bloggers by BlogAdda.
Good news! There is now an easier way to submit your WOW entries, so just click on the submission link below for your WOW entry to be considered valid.

Every weekend, we give creative writing prompts for you to write blog posts on! Hope you enjoy our creative writing inspiration for this week. 🙂
All those who are featured in WOW can now flaunt the WOW badge on your blog. Download your badge now!