#WIN15 and the days that lead up to it were some of the most memorable for us at BlogAdda. If we sat down to tell our #WIN15 stories, it would take more than a night to finish all of them. But #WIN15 was an event designed for you, our blogger family, so the privilege of storytelling also belongs to you.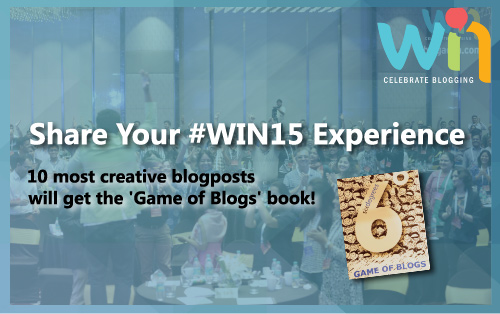 You attended #WIN15, interacted with the speakers, learnt new skills at the workshops, participated in the crazy antics by Siddharth Kannan, witnessed the #WIN15 Blogging Awards and the launch of 6 Degrees, India's first collaborative blogging book. You also met your fellow bloggers, bonded with them and clicked selfies with them (Yes, of course we were looking at you selfie enthusiasts!)
Share your #WIN15 experience through a blog post and #CelebrateBlogging. Talk about the good, not so good and the mind blowing (you thought we'll say ugly, didn't you? Hah!) things that you experienced during the day long blogging festival. Why?
Firstly, #WIN15 was an event for bloggers so obviously we want to know what you thought of it. It will help us do something even better for the Indian blogosphere. Secondly, it's a way for both you and us to relive the wonderful day. Thirdly, we'll feature your #WIN15 blog posts on a special destination where it will be visible for all to read. And fourthly, the 10 most creative blog posts win the Game of Blogs book 6 Degrees!
Isn't that awesome? So go back in time, look at your #WIN15 photos and notes, and write an awesome blog post that will make us time travel to that amazing day!
Remember, the last day for submitting your blog posts is midnight of 12th October, 2015!
We want to have many such epic activities in the future, and as they say 'Your feedback is important to us'. So all the #WIN15 attendees, do fill this form with your feedback which will help us work better together in the future.  🙂