Getting married means being there for each other and being together through all of life's adventures and challenges together. You want your "happily ever after" to last forever right? Be a part of the #ProtectHerHeart initiative with Saffolalife, and make your hearts happy and healthy!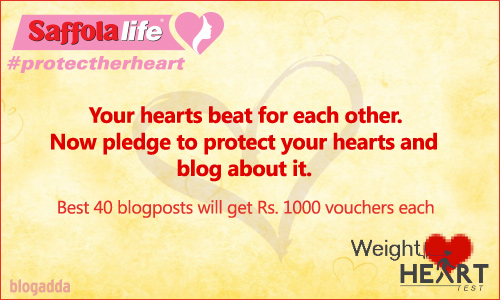 The women of the family are the ones who take care of everyone around. Be it as a wife or a mother, they are the ones everyone turns to for help, sustenance and guidance. They are at once the captain and the anchor of the family's ship. In short, they put everyone first. Now it's time to put the women first and take care of their health, their heart health.
Research shows that 2 out of 4 women are at risk of heart problems due to increasing weight*. The good news is that research also shows that a 30 minute walk can improve your fitness levels and is a simple yet significant step to protecting your hearts.
So all you couples out there, take the pledge to walk together and make this your mantra for healthy weight management and a healthy heart!
Here's what you have to do to #ProtectHerHeart
1. Take the 'Weight-Heart Test' at www.saffolalife.com
2. See the results and check out the steps you can take for improving your fitness levels.
3. Plan what you can do together to #ProtectHerHeart and blog about it!
Prizes:
The 40 top blog posts will get vouchers worth Rs. 1000 each!
Ladies, now is your time to decide to take care of your heart, and blog about it. Remember that your first duty is towards yourself, and only by being healthy can you take care of your loved ones. Gentlemen, it only takes 30 minutes every day to ensure your wife has a healthy heart. So out on your thinking caps and tell us all the things you can do together!
We can think of a lot of activities that you can do together that will #ProtectHerHeart and also be a fun way to spend some quality time together! You can join a dance class together, eat a healthy meal together, or go for a long romantic walk together! Come up with your own beautiful way of keeping your heart healthy and take the Saffolalife pledge- As part of the Saffolalife #ProtectHerHeart initiative, I pledge to walk together daily for 30 min and take my first steps towards healthy weight management. You too can assess the impact of your fitness levels on your heart health through the Saffolalife weight heart test which can be taken at www.saffolalife.com
Click on the button below to submit your entry!
Click To Submit!
Mandates for the activity:
The word limit for every blog post is a minimum of 300 words.
Please include the line, "I am joining the Saffolalife #ProtectHerHeart initiative and pledging my support to better heart health in Association with BlogAdda."
Only blog posts submitted through this form will be considered valid.
The last date for submission of this blog post is midnight, 2nd October, 2015.
One blogger can write a maximum of 2 blog posts for this activity.
This contest is open only for married bloggers.
Blog your way to better heart health today!