Thinking Particle is a travel blog, but to call it just a travel blog would be doing it injustice. The About Us page of the blog run by Vishnu Kumar and Vijay Dubey says "Thinkingparticle.com is our effort to make traveling India a bit easier. We are trying to give most accurate information possible about various destinations through our travel articles. We also provide an opportunity to our fellow travelers to share their travel experiences by writing travelogues , by participating in our India travel forums and by sharing photographs." This 'social angle' is what makes Thinking Particle different from other travel blogs. We spoke to Vishnu about their journeys, both as bloggers and as travelers.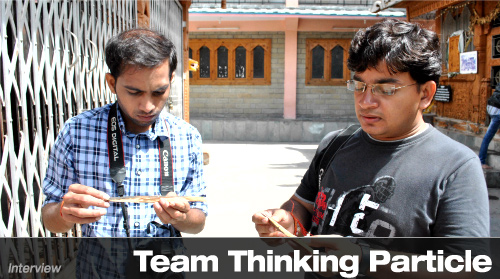 Q. What made you name a traveler's hub 'Thinking Particle'?
Vijay and I were heavily influenced by the work of Bertrand Russell, a famous British philosopher and meta-physicist. During our early travels and foundation days of Thinking Particle, we used to share thought-provoking dialogues around his books, theories. While registering a domain name we were confused weighing different options but we decided to name it after one of his theories in which a living creature in the universe is termed as thinking particle. In abstract terms as mentioned in that theory, we all are a just a particle with capability of thinking. Though it does not directly relate with travel but we choose this name due to our own affinity with these two words.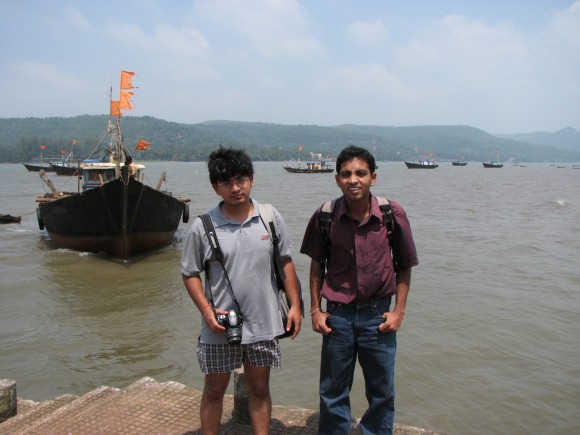 Q. What inspired you to take travelling so seriously?
I had spent my childhood watching documentaries on Discovery channel and National Geographic. While earning my graduate degree I was always dreaming and reading about places in India. I had ambitious travel plans and fortunately some of those could materialize and some of those are still in bucket list, making me sleepless at times.
Q. What makes 'Thinking Particle' different from other travel blogs?
Thinking Particle is not just a personal travel blog but also a portal where many people can share their travel experience and help each other outlining an itinerary. We had added many features with the portal for incorporating images, videos, groups etc. Content at Thinking Particle is not influenced by travel businesses which makes it transparent and more reliable.
Q. How did you come up with the concept of a 'social networking blog', where travelers can exchange notes?
While founding Thinking Particle in 2008, social networking in travel was usually addressed through forums which were a little difficult to navigate through. Travel tips were scattered in Orkut groups, Flickr galleries or travel forums. It was really cumbersome to extract all the useful information and plan your travel independently. Many forums were dormant.
We came up with an idea to give users a capability to share their stories as blogs and articles instead of posting those in forums. Replies in forums usually get lost. Articles/blogs at Thinking Particle got their page and lucid representation.Thinking Particle also provided users a personal space to keep their travel memoirs in relatively organized manner.
Q. Take us through the day to day working of the 'Thinking Particle'. What are the biggest challenges and rewards?
We wanted to include all the necessary information which can enable people to travel independently in every article posted on Thinking Particle so I used to spend half of my time traveling to a place/making notes (in hard copies) and then remaining half in compiling that information as an article/blog which is informative and interesting as well. I used to travel for 15 days in one trip and then write for 15 days. We also had to spend time writing code for the website and doing social media marketing.
Besides posting content, I also spend few hours every day answering queries received in forums, comments, emails etc. Thinking Particle is primarily about budget traveling so I always use public transport and stay in cheap lodges. Traveling cheap is sometimes taxing in the longer run. Rewards come in many forms such as meeting many interesting people on the road, making new connections, witnessing some really awe-inspiring landscapes. It's an enriching experience, thus rewards are different from other mainstream occupations.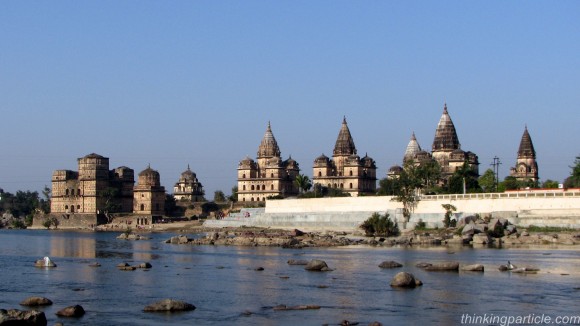 Q. How do does 'Team Thinking Particle' work together? Have you divided your work according to your strengths?
We are a very small team of two people so we do not have the liberty to define a scope of work. We worked together on every aspect from writing codes to processing images. No area was defined as the sole responsibility of one person. Vijay outlined the layout of the entire website and worked on the technical side of the portal.
I also supported in some parts but I was primarily busy traveling places and making notes which later took form of articles, galleries etc. As we both are passionate about traveling so we also traveled together a lot. Vijay also wrote several articles. Now there is also significant work which goes into keeping forums active and answering queries posted by fellow travelers which we both address.
Q. What are your views on luxury trips?
I am not against luxury trips though I was never fortunate enough to go on one. Luxury trips have their own charm and intended traveler base. I feel luxury trips also offer unique experiences which are impossible to get when you are doing budget travel or backpacking.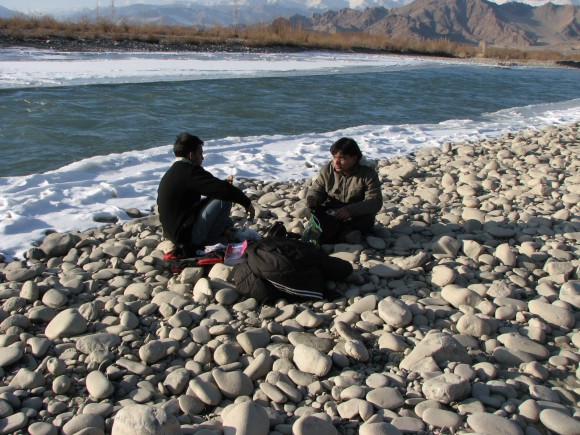 Q. Since you have traveled so extensively, what if we were to send you to another planet, which one would you want to visit first?
Jupiter, I would say.
Q. How do you promote your blog and ensure it stands out?
Thinking Particle functions on the traditional way of getting organic traffic through Search Engines so we put a lot of effort on SEO side of the website and to make it search-engine friendly. Besides we also use social media platforms to share stories with fellow travelers.As mentioned earlier, publishing high quality content is always the prime focus of the website and which eventually stands it out.
Q. Is there one thing you never travel without? Any travel tips you'd like to give our bloggers, regardless of the destination?
I travel very light and generally carry stuff depending on destination. I always kept toothbrush and camera during all of my journeys. I would not suggest to invest a lot of time researching about what to pack and what not to pack. From my personal experience, you do not need half of the stuff you pack and you can also buy necessary stuff while you are traveling. On health front, you should keep medicines which you feel that you might need during your travels.
Q. Was there any article posted by writers which inspired you to pack your bags and leave? If so which one?
Travel blogging was not very popular when we founded Thinking Particle. I was mainly inspired by travel books or documentaries. Michael Palin and Rahul Sankrityayan inspired me to travel in the initial days.
Q. What's the future of travel blogging in India?
Travel blogging has taken a dramatic shift towards microblogging such as Instagram, Twitter, Facebook etc. Our country is full of amazing destinations so there is always scope to write something unique which can get the attention of readers. Besides now people are traveling a lot in India so the future is bright.
Q. The one travel story you hold closest to your heart? The one that perhaps brings a smile on your face on an unusually down day.
Back in 2008, I and Vijay taken a trip to Ladakh during winters. Those days Ladakh during winters was considered an insane choice because everything gotten shut down and it's dreary and desolated. Whenever I remember about our times in Ladakh, I feel an unusually pleasant facial expression.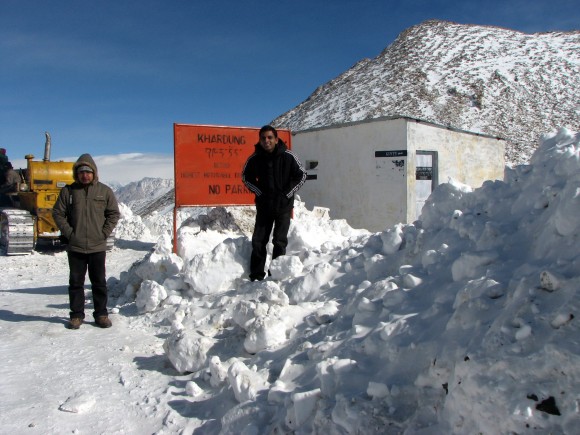 Q. Have you watched the movie Walter Mitty? Is there anyway you relate to it? (If no, then which is a movie you do relate to?)
I did not watch Walter Mitty. I will definitely watch it soon. Everyone has their own notion of traveling but I can relate a lot with "Motorcycle Diaries" which expresses the sublime simplicity of traveling.
Q. Where are you heading to next?
Japan.
Q. Do you write as you travel or once you are done with the trip?
While traveling, I keep writing in the notebook but restrain myself from using the internet. During travel days I completely immerse myself into travel, having new experiences and meeting people. Later after the trip, I recollect my memories and read my notes to compile articles/blogs/images for internet.
Q. Famous travel bloggers you follow?
I follow many travel bloggers from India and other countries. Manish Lakhani, Arun Bhatt, Nomadic Matt are to name few.
Q. Any quote you live by? And why?
"…there is no greater joy than to have an endlessly changing horizon, for each day to have a new and different sun." It is from "Into the Wild", a book by Jon Krakauer, also adapted into a movie by the same name. Literally it represents the life of a traveler occupying the window seat for an endless journey but there can be other interpretations as well. This quote encourages us to live each day differently and with new energy. It also motivates us to leave the comfort zone and embracing new experiences in life.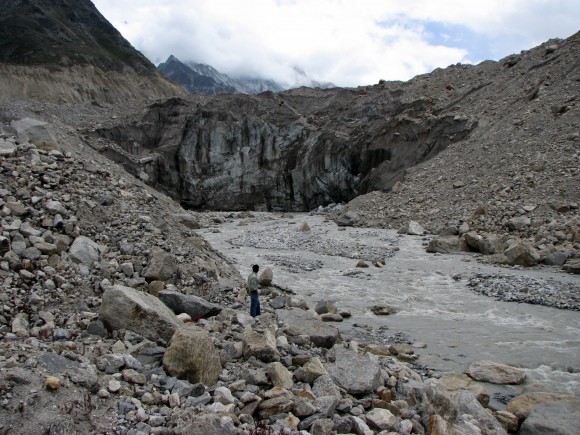 Comfort zone and inhibition are analogous to each other. Inhibitions are natural but once we learn the art of overcoming these then it becomes a habit and we witness the extremely exciting paradigm of life full of endless possibilities. This quote has been a great help whenever I found myself stuck in a comfort zone.
Q. Has any destination ever disappointed you? Which one and why?
Fortunately I never had any acrid and unnerving experience with any destination. I do not keep any pre-conceived notion about a place which reduces the chance of disappointment.
Q. A place you wouldn't mind visiting more than once.
There are many places which I visit quite often. Spiti in Himachal Pradesh is one place to which I can travel again and again.
Q. We read about your solo trip. How was it to travel alone on such a snowy terrain? Were you ever scared? Or was it just great? Was there a map or GPS you were using to navigate? Sorry, that's a lot of questions. But that post really caught our attention and curiosity!
I have mostly traveled solo but I also met many people on the road who accompanied me for a while. About Solo Winter trip to Spiti, I was little apprehensive when starting the trip as everyone discouraged me. However it was an amazing experience once I reached Spiti during winters. I was the only outsider and everyone invited me home for tea and biscuits. I never used GPS when I was trekking in Spiti. It was a little insane but I always took informed decisions during that trek.
I had some idea about the trail as I been there during summers however I knew that I will not get any help in case of emergency so I took precautionary measures during that trek. It was very difficult to walk on the snow and days were shorter so at times I had to push myself a lot to negotiate that terrain in order to reach nearby village. Local people helped a lot during my winter days in Spiti and I am still in debt to those generous people of Spiti. To answer your second question, I was never scared.
Q. How many countries have you traveled to? What are your thoughts on Indians travelling abroad? As a lot of westerners quit their job and take up travelling, can Indians afford to do that?
I have not traveled much abroad. I have only been to Australia, Georgia, Nepal and Bhutan. I do not see any major challenges for Indians to travel abroad, however, some countries are really heavy on the pocket considering average income. Another primary challenge for Indians is getting visas. At times visas are also expensive. Unlike westerners, you need to plan your trip way in advance and also do proper research about visas etc. For Westerners, It is also easy to get temporary work abroad as many countries allows them work visa so they can easily travel and work simultaneously. However for Indians, options are limited. I do not think international travel is expensive as I had met people traveling really cheap, doing hitch-hiking, couch-surfing and saving a lot of money. In coming years I am very hopeful to see good number of Indians taking breaks from their jobs and journeying around the globe like other backpackers from western countries.
Q. Favourite place in India that you'd like to call 'home'.
Spiti in Himachal is very close to my heart. Champhai in Mizoram is also another homelike destination.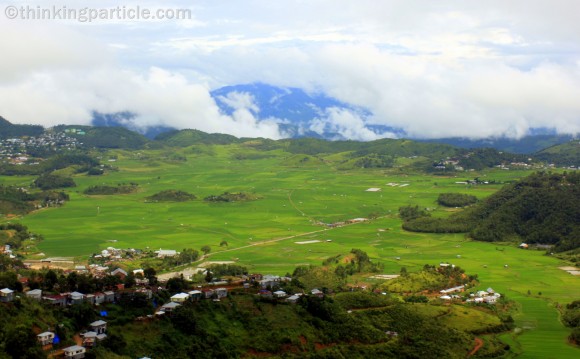 Q. How else have you documented your travels? Apart from blog posts (P.S. We're actually wondering if there's a book coming out.)
Not all of my travel stories have yet come on the website. I scribble a lot in my notebooks during travels and I hope one day I will get the patience to convert those notes/images/diagrams into something informative which can help people travel India independently, but there is no timeline as yet.
Q. You must have experienced all kinds of weather from desert storms to snowfalls, do you think you understand nature better now and feel closer to it?
Yes, I have come across some harsh forms of nature from snowstorms to cyclonic storm (Phailin to be precise). I am an animist and strongly believe that nature has a soul. I always felt connected to nature and travel only strengthened that relationship. For that reason, I am equally in love with all the blessings of nature. Be it inclement deserts or high-lands of Himalayas.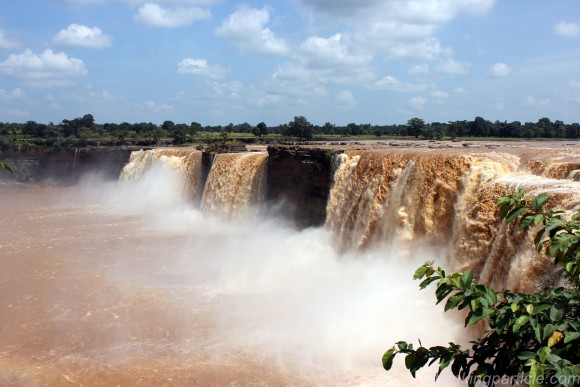 Q. Do you ever require detox from travelling? As in where you say, "This is it, I don't wish to go anywhere for the next few weeks".
It used to happen during early days of traveling but now I am very comfortable remaining on the road for a really long time. Sooner or later, it's natural to miss your home, pillow, bed, food so this feeling arose in the past and will keep coming in future as well.
Q. What is your advice for travel bloggers? Or someone who wants to start a new travel blog?
Since it's the era of social media and mobile technologies, I would suggest to leverage it as much as you can but remember content is still the key. Making informative, interesting and visually appealing content is the longer route but it pays off in long run. Do not rush. Take your time penning down your travel experiences.