"I won't be impressed with technology until I can download food."
Whoever said this probably did not have the AskMe app. There is so much food on the planet that you will never eat your way through all of it. So never waste an opportunity to explore a unique aroma, a new cuisine or an interesting flavour. Is there a quick way for these diverse flavours to make way to your taste buds? We say YES! Have you tried the new AskMe app? It is the easiest way to get up, close and personal with your favourite food nearby.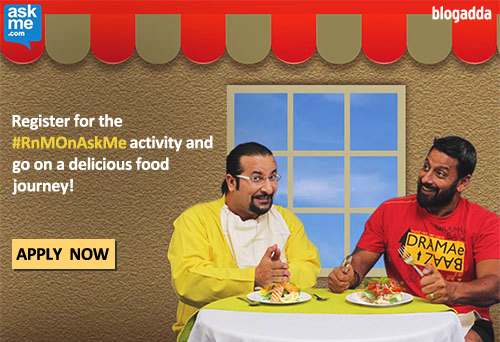 AskMe in association with BlogAdda is calling all food bloggers for a treat. Are you game to experiment with a new restaurant, or even revisit an old favourite? Whether it is discovering new food joints, places that serve your preferred cuisine or looking for the closest restaurant to satisfy your sudden cravings, the AskMe app ticks all the boxes for a great foodie experience.
Register for the #RnMOnAskMe activity, and 15 shortlisted bloggers will get Rs. 2000 to enjoy a great meal using the AskMe app. All you have to do is blog about your dining experience once you're done.

Indians and food have a special relation, a bond that just keeps growing stronger. Food is the easiest and the best excuse to get yourself and your friends out of the den to breathe some fresh air. The AskMe app gives the right answers to all your dining questions. In the mood for some food? Just AskMe!
Register Now!
Here is how you go about it:
 Register for the activity using this

form

.

15 bloggers will be shortlisted. Shortlisted bloggers will intimated by BlogAdda via mail.

Shortlisted bloggers get a chance to use the app to search and visit their chosen restaurant and have a great meal. They will have to blog about their experience with the app, restaurant and food using the app.

The word limit for each blog post is a minimum of 400 words.

 Only bloggers in Hyderabad, Delhi, Mumbai, Bangalore, Kolkata, Pune, Jaipur, Chennai, Ahmedabad and Cochin can participate in this activity.
Register at the earliest because 15 slots will be gone in the blink of an eye!
#RnMOnAskMe is ready to take you on a delightful food journey, so grab this opportunity and get on the food train!