"A picture can tell a thousand words, but a few words can change its story" – Sebastyne Young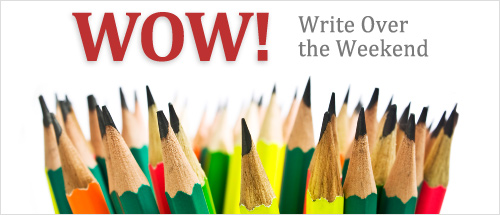 This weekend your post should begin with, "I can't get the image out of my head."
How many times have you come across incidents where you couldn't remove the image out of your head? We are not all blessed with a photogenic memory like Sheldon, Einstein or Tesla. But, there are times when we have experiences which leave a long-lasting impact on our memory. If not, then make a fictional story and include this line in your post! Remember, this prompt is to get you to think out of the box and not to put you in a box with rules. So write for the love of writing and keep it interesting!
Get, set, blog!
Remember, you have time only till Sunday midnight to submit your blog posts and have a chance to get the WOW badge!
Include this code:
This post is a part of Write Over the Weekend, an initiative for Indian Bloggers by BlogAdda.
Good news! There is now an easier way to submit your WOW entries, so just click on the submission link below for your WOW entry to be considered valid.

Every weekend, we give creative writing prompts for you to write blog posts on! Hope you enjoy our creative writing inspiration for this week. 🙂
All those who are featured in WOW can now flaunt the WOW badge on your blog. Download your badge now!