"Creativity is the key to success in the future…" – APJ Abdul Kalam.
Following our late former president's words we bring you today's WOW filled with creativity like no other. We have three words that will make you write a wonderful blog post! Take this creative writing prompt to show-off your creative flair!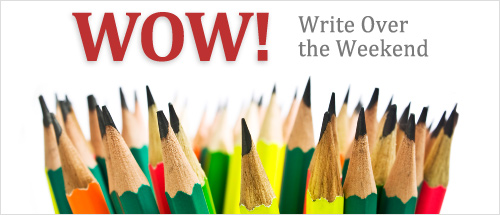 This week's WOW prompt is – 'Time machine, Blue Sofa and a Diary'.
You have to include these words in your blog post. There is a lot you could write around these three words, all you need is a little imagination and you can carve out a very interesting story! We want you to spend your weekend taking a break from regular writings and think something out of the box. Here's your chance to produce an ingenious piece!
Get, set, blog!
Remember, you have time only till Sunday midnight to submit your blog posts and have a chance to get the WOW badge!
Include this code:
This post is a part of Write Over the Weekend, an initiative for Indian Bloggers by BlogAdda.
Once you are done with your post click on the submission link below for your WOW entry to be considered valid.

Every weekend, we give creative writing prompts for you to write blog posts on! Hope you enjoy our creative writing inspiration for this week. 🙂
All those who are featured in WOW can now flaunt the WOW badge on your blog. Download your badge now!