Our country has faced a loss of a noble soul, Dr. APJ Abdul Kalam. We are currently in mourning. It is really wonderful to know that one person impacted lives of so many.
On the internet, though, we have a pattern of mourning.
We mourn for a few days by sharing videos, posts, updating tweets and statuses. Our timeline is currently filled with all of that. Then we slowly move on in our life. During the death anniversaries we see some more posts and some people getting emotional by remembering the loss. But that stops there. This time we will do something different and something more effective.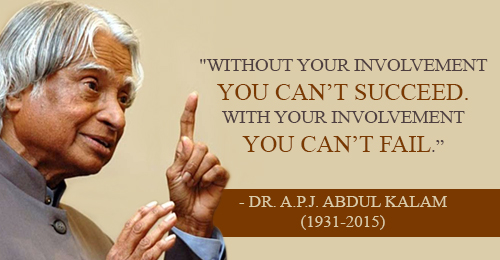 We will make the demise of Dr. Kalam a foundation for us to imbibe the values imparted by him. Every year on July 27th, we shall keep a check on whether we have actually followed all that he said. This is a personal task. You must do this if you appreciated our former President and the value system he followed.
He was an epitome of how an ideal leader should be. He has inspired us in many ways. He gave us some simple guidelines to abide by. In corporate world we are so involved with our jobs and in love with our careers that we forget how to create work-life-balance. He advised us to leave work on time, otherwise you will be deemed incompetent.
At the same time, he had advised us to work an extra day when he passes away. So don't give Vinod Tawde, Maharashtra's education minister, a hard time for not giving 7 days of leave. He is simply doing his job by asking you to do the same. As for Mr. Kalam, he wanted you to be efficient in your job as well as in other realms of your life.
Apart from the above advice, he had given a speech at IIT Hyderabad on how we must constantly focus upon positive news. He gave an example of an Israeli newspaper, when amidst war, had a front page full of news about a farmer and his bountiful harvest. A happy photo on the front page of every newspaper makes a positive impact on otherwise heavily stressed citizens. So when you read the news daily, focus on positive aspects of our country as you do about many other negatives. We are sure that Dr. Kalam would have loved that.
Last but not the least, do mourn and praise the greatest soul ever lived, but, also treat his departure with dignity and take lessons for the future. Don't bring in religious and political affiliations. Instead see what you can learn from his work and speeches and start inculcating them into your life.
What are your favourite lessons from Dr. Kalam? Share here in comments. We are waiting to hear you out!