Did you know Mark Twain visited the Kumbh Mela in 1895 before it was made too mainstream by our Bollywood Stars? Now wouldn't you want to know more about the festival? How would it be if you get a chance to experience Kumbh Mela through a film, books, discussions and performances?
Well, then here is a golden opportunity for those who are intrigued by this gargantuan religious event!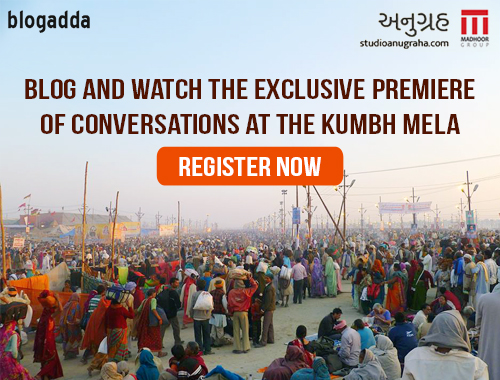 There have been some fantastic film makers who have visited Kumbh Mela 2013 in Allahabad and recorded it as a documentary. The company is holding a screening of the documentary before releasing it.
You can watch the trailer here:
Take this as your chance to witness the Kumbh Mela without going through the ordeal of traveling to another city brought to you by the makers of the documentary – Anugraha. You need to be at this screening to know what actually happens in the festival where around 60-80 million people come together.
Therefore, we have acquired this moment to get our best bloggers to attend the event. It will be held at Nehru Centre, Discovery of India Building, Hall of Harmony Annie Besant Road, Worli, Mumbai – 400 018.
What do you have to do?
What are the things that come into your mind when someone mentions "Kumbh". It could be stories, experiences, dreams, folktales and more. Blog about it now!
Prizes
  Best blog post will win a book along with the premiere experience
 2 best blog posts will get to attend the premiere on July 25, 2015
 25 bloggers will get to attend on July 26, 2015 and July 27, 2015 for the screening/performances/making of the books/exhibit tour
So bloggers who travel, film, read and those who want to watch the chaotic festival fall perfectly in place on a documentary, participate and WIN!
Mandates for this activity:
The minimum word limit for each blog post is 400 words
The activity is open only for Mumbai bloggers
Please include the following line in your blog post "I am unraveling the mysteries of Kumbh Mela by participating in the #TheKumbhMelaExperience activity at BlogAdda in association with Anugraha
Embed this video in your blog post
The blog posts should be sent through the submission form only
Submit blogs before July 22, 2015, midnight
Click here to submit your post
Click To Submit!
These are the books which will give you an inside view of the festival and will be available at the exhibition –
Vol 1 – Place, Time, Astronomy
This book speaks about why you must attend the Kumbh Mela and significance of being there for it.
Vol 2 – History, Mythology, Belief
The content of this book revolves entirely around historical facts about the Mela. It speaks widely about how everything started and how is it perceived in the form of beliefs.
Vol 3 – Ganga, Yamuna, Saraswati
The three most important rivers associated with history of Hindu mythology has been given elaborate attention in this book. The snans of Kumbh Mela take place in their Sangam, therefore, the are the centre of the festival.
Vol 4 – Seva, Sadhana, Satsang
Philosophical side of Kumbh is explained descriptively over here. More importantly the question, "What is the essence of Kumbh?" is answered.
Vol 5 – Guru, Disciple, University
There is a lot to learn at Kumbh Mela, it is all about lessons of life and gain a humanistic view of the world. This book has focused upon this valuable aspect of the festival.
Vol 6 – Abstinence, Penance, Charity
A To-Do List for Kumbh Mela, this is precisely what the book comprises of. Yes, Penance and Abstinence are a part 'things to do' at the festival.
Vol 7 – Faith, Fate, Worship
Kumbh Mela is a festival to enrich your soul, you need to let your soul be completely engrossed in the festival for it to work on you. You need this book to know how to give yourself to Kumbh and let it's wonders take over you!
Vol 8 – Services, Sellers, Spectacle
Last but not the least, the visual aspect of Kumbh Mela is the most sought after. Do you know they are the event managers of this festivals? This book will give you some fantastic tips from them to manage a festival as huge as this!
Apart from the books, you will be meeting those who spent 6 weeks at the Mela, who will give you a insights on their journey. So come along, write and cleanse your soul by attending this event! Start writing right away and grab this opportunity, before the slots fill up!