Wake up. Get Ready. Travel in style (not!) to your office. Work for ~8 hours. Go back home. This is the schedule that most people who work for a living follow. But for Team BlogAdda, working hours don't just transport us to office, they take us to another dimension altogether. It's a world of interacting with bloggers, curating their blogs, addressing their issues, dreaming up activities for bloggers and then coming back to Earth and actually executing them.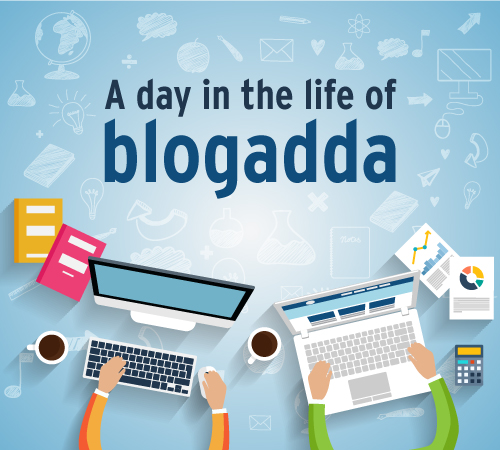 On normal days, you'll find us trawling through the blogs of the many, many bloggers that are part of the BlogAdda family to feature them in our weekly editions. Then we move on to planning activities, both online and offline, that we think will delight bloggers and inspire them to hit the keyboard with gusto.
Sorry to regress into cliches, but the BlogAdda office really is a well oiled machine where every cog is as important as the next to ensure that work gets done.
There is the Sales and Finance team that takes care of our bread and butter, we mean, does a great job of dealing with potential partners for blogger outreach programs.  We have the tech team which keeps the site running, creates new destinations for every new campaign and maintains the all-important blogger profiles. We shudder to imagine what would happen if this team stopped working.
We have Campaign Wizards who come up with super-innovative themes for you to blog about in every activity, treading the thin line between practicality and innovation. The secret to their creativity? For every approved theme, at least 5 themes see the inside of the dustbin. Didn't we tell you they worked really hard?
The Content team is the noisiest, with the constant sound of the keyboard keys being pounded disturbing the whole office and forcing them to plug in their earphones a little deeper into their ears. The content person's worst nightmare? The mug in front of them being empty. Gasp! It has to constantly be replenished with tea, coffee or green tea to keep the content flowing from fingers. À la 'Jab tak tere pair chalenge, tab tak iski saansen chalengi'.
All in all, the BlogAdda office is more like the Avengers headquarters, powered with the superpowers of honesty, sarcasm, efficiency, a genuine belief in what we do, sharing and stealing lunches and incessant giggling. Fueled by endless cups of tea and coffee of course.
The evenings get a little longer than expected and after office plans have to be sacrificed sometimes, but the one thing that is constant is the satisfaction of a job well done at the end of every day. What do we get in return? Some good words of praise from bloggers (keep it coming!), smiley faces, superb blog posts to read and the joy of bloggers getting their due.
It's a good life.
We are looking for more superheroes to join the mission, so if you think you are up for the challenge, apply for the following positions at BlogAdda (Location: Mumbai) by sending your applications to careers@blogadda.com with the relevant title in your subject line.
Account Manager
Sr Web Developer
Content writer (0 – 2) years experience
Social Media Specialist (2 – 5 years experience)
Remember, the moment you are selected, you will become an Avenger, we mean BlogAdda hero. There is no going back, and only the worthy will be able to bear the mantle of being a part of India's biggest blogging community. Choose well.
This is the fun that we had while working for #WIN15.
https://instagram.com/p/74kCW1pPpx6Z82iAEkPuOlS1ZMLSXKV9A1gBQ0