There is something about babies that brings out our most protective side. When there is a new arrival in our family, our lives change forever and we want to give the best in the world to the little one. In this case, wouldn't you like to use the best massage oil for your baby's growth? Register for the Dabur Baby Massage Oil #FirstLove activity and you can get your hands on nature's best for your baby!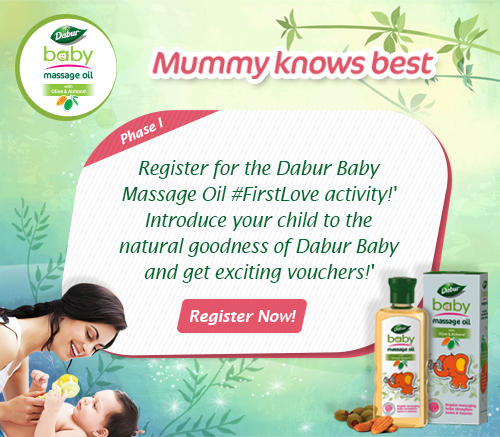 One of the most trusted brands in India – Dabur has launched a new massage oil for babies that is designed to give the most benefits to the delicate skin of babies. The good news is that it is free from harmful parabens and paraffins which are detrimental to a baby's health. Dabur Baby Massage Oil is enriched with the natural goodness of olive and almond oil. This oil nourishes the baby's skin and regular massage with this oil is known to help develop the baby's muscle fast and enhances quicker bone formation. The Oil has also been dermatologically tested for skin safety.
Dabur Baby and BlogAdda invite you to use this revolutionary new product with the Dabur Baby Massage Oil #FirstLove activity. Bloggers who have children between the ages of 0 days to 2 years can register for this activity and get their hands on this product. Parenting bloggers who have access to a young child on whom the massage oil can be used are also welcome to sign up for this activity.
Once you are shortlisted, we'll get back to you with more details and you will receive your free sample of Dabur Baby Massage Oil with Olive and Almond! You will then have to use the product on the baby and blog about the experience!
So are you ready to stop compromising on your baby's massage oil and to give them the best that nature has to offer? If yes, sign up now for the Dabur Baby Massage Oil #FirstLove activity and see the difference!
Click on the button below to register!
Click To Register!
We have limited Dabur Baby massage oil samples to give out, so register at the earliest to ensure that you get your hands on this product. Go ahead, do it for your baby's good health!