As a part of the BlogAdda Book Reviews Programme, we give book lovers a chance to review some great books on their blog. This time around, we have an opportunity for all bloggers to experience a book and blog about it. What's more, this book doesn't have a fictional story, but your own life story!
BlogAdda in association with Exide Life Insurance invites you to experience 'My Money Book', a book which is your very own record of what you have gained in life. Apply for this activity and we'll get in touch with the shortlisted ones soon.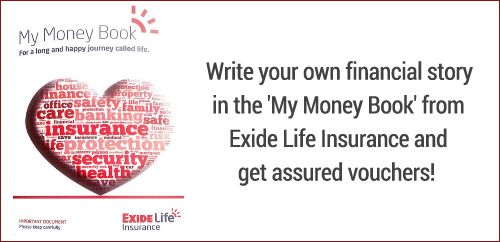 The shortlisted bloggers will get a 'My Money Book' from us and will have to blog about 5 useful things about the book and share a wish list for the next edition of the book.
Most people try their best to secure their family's future with savings and insurance policies, but don't keep a record of it in one place, leading to much confusion in crunch situations. Exide Life Insurance's My Money Book is the perfect place to have all the details of your savings, loans, investments and important numbers in one place for your ready reference.
Shortlisted bloggers will get this book to blog about, and get an assured voucher worth Rs. 1000!
Register for the activity by clicking on the button below!
Click To Submit!
Get ready for a long and happy journey called life with Exide Life Insurance and register soon, because we have limited slots available!