For all those who keep a track of current affairs, it might be a depressing time which has atrocities against women and misogyny splashed all over the headlines. In a country which boasts of a pantheon of not just Gods but also Goddesses, isn't it time for women to reclaim their status as a Goddess? Use this week's WOW creative prompt to tell us what you think of this subject!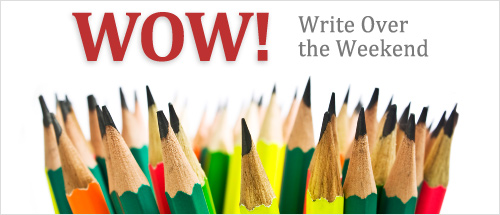 This week's WOW prompt is – 'The Goddess'.
Women are revered in this country in the form of Goddesses, but people are just as quick to tear real women off the pedestal. You might even be of the opinion that women needn't be given the position of a Goddess, just treating her as a respectable human being is enough.
With this creative prompt, you can talk about this dichotomy, about a Goddess who has inspired you, a real life woman that you think is a Goddess, or anything else that comes to your mind. We know you will have loads to say about the topic, and we are waiting for your wonderful thoughts on the WOW prompt – 'The Goddess'.
Remember, you have time only till Sunday midnight to submit your blog posts and have a chance to get the WOW badge!
Include this code:
This post is a part of Write Over the Weekend, an initiative for Indian Bloggers by BlogAdda.
Good news! There is now an easier way to submit your WOW entries, so just click on the submission link below for your WOW entry to be considered valid.

Every weekend, we give creative writing prompts for you to write blog posts on! Hope you enjoy our creative writing inspiration for this week. 🙂
All those who are featured in WOW can now flaunt the WOW badge on your blog. Download your badge now!
Take the pledge to #ShareTheLoad, take up the Ariel #WashBucketChallenge and win a fully automatic washing machine! Click here to participate!
This weekend, tell us 5 ways in which you #SlowDownZindagi with Parachute Advansed Aromatherapy Oil, and win vouchers worth Rs. 1000. Click here to submit your entry.
Fashion and beauty bloggers! Register for the #LakmeSchoolOfStyle activity, blog about your favourite videos from the #LakmeSchoolOfStyle fashion online magazine and get assured vouchers! Click here for details.