It's Valentines weekend and nobody is spared from inhaling and being intoxicated by the love that is in the air. We at BlogAdda are not immune to the Valentine fever too, after all, why should we let go of any chance to celebrate love? So here's a wonderful WOW blog post prompt for you!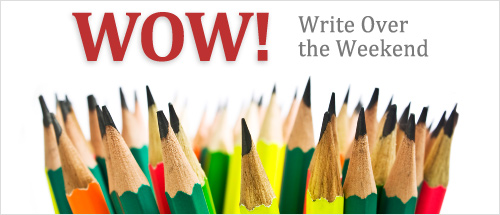 This week's WOW blog post prompt is three words – "Valentine, Perfect, Destination".
Valentines Day is a much awaited day for couples, and some people even refer to their partner as their 'Valentine'. The word itself evokes a sense of love and romance. So this word had to find a way in our prompt. The other two words are 'perfect' and 'destination', which you have to weave into a story along with the word 'Valentine'. We are looking forward to your posts brightening up our weekend!
Remember, you have time only till Sunday midnight to submit your blog posts and have a chance to get the WOW badge!
Include this code:
This post is a part of Write Over the Weekend, an initiative for Indian Bloggers by BlogAdda.
Good news! There is now an easier way to submit your WOW entries, so just click on the submission link below for your WOW entry to be considered valid.

Every weekend, we give creative writing prompts for you to write blog posts on! Hope you enjoy our creative writing inspiration for this week. 🙂
All those who are featured in WOW can now flaunt the WOW badge on your blog. Download your badge now!
Participate in the 'The World Remade' activity in association with India Today #Conclave15, blog about the kind of world you would build if you were the 'Creator' and win passes worth Rs. 1 lakh! Click here for more details.