"I draw cartoons, but won't call myself a cartoonist. I write fiction and non-fiction, I ramble, but won't call myself a writer. I am athletic and I like to read but won't call myself an Acrobat Reader!" – I am Dr. Abhyudaya Shrivastava. Read my interview below.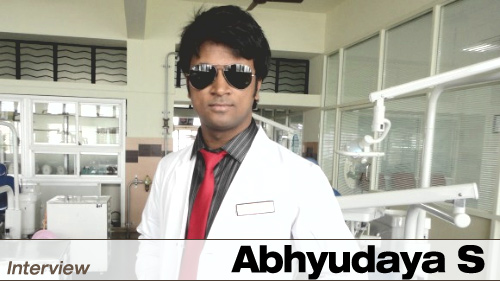 Q. When and why did you start blogging?
I started blogging when I was in the 12th standard. It was 2005 and I had come across an interesting platform called Yahoo! 360. Although it doesn't exist anymore, the idea of writing something which the world can see and comment on fascinated me. I made friends from across the globe and shared ideas with them. More than a medium of expression, it was a medium for reaching out to people from different cultures and societies for me. I was just thrilled to have friends from the other side of the globe.
Q. What are the topics you usually blog about?
There are times in the year when I just feel like writing fiction, then there are times when I want to just draw cartoons or maybe write about socio-political affairs of the times. I was torn between starting different blogs for different hobbies of mine or keeping them all under one roof. I did toy with the idea of managing multiple blogs but then finally decided to give an e-magazine like feel to my blog. Recently, I have also started writing book reviews. So now my blog is like a free-floating thought bubble with book reviews, short stories, poems, cartoons and psychobabble in equal measure within it.
Q. Do you have a fixed schedule for blogging? How do you plan your posts?
I know I should be posting in high-traffic hours and post at regular intervals but that's just not how my whimsical mind allows me to function. I get ideas and I save them as drafts. Then when I am sitting in my clinic or my room, I pick up my laptop and start typing or drawing until the creative burst lasts. Once it is out of my system, I have to publish it even if it is 1 am in the night.
I tend to put minimal planning in all my endeavours. Sometimes I post multiple entries in one go which results in some good posts getting buried into obscurity. I do try to post at least twice every week. And to compensate for the lack of discipline, I try to share the links of my posts on social media platforms regularly.
Q. You're a dentist by profession. What made you start a blog which has everything from poems to comics to fiction?
Much before coming into dentistry, I had fallen in love with cartooning. I still remember how my parents and grandparents had appreciated my initial attempts at drawing matchstick figures. I think that sort of motivation and acknowledgement matters the most in the making of an artist or writer.
When I first began writing on Yahoo! 360, I wrote something completely random and free-floating. A kind fellow blogger from USA told me that there was a certain wisdom in my words and my writing could be classified as prose poetry i.e a fusion of both poetry and prose. I was suddenly very aware of my talents and the hunger for appreciation inside me had been kindled. I started taking my blog seriously after that. Although I do not consider myself worthy of the praises I initially got but yes, those words of appreciation certainly shaped my future.
Q. Take us through your process of creating a comic – from the idea to publishing it on your blog.
Well, the idea has to strike me. There are two ways it happens- the first is when it comes to me on its own. Say, I am having a chat with a friend and someone makes a witty quip. I take a mental note and if I still remember it after the conversation is long over, the idea pushes me to draw something on it. I usually draw on Microsoft Paint, that too with a mouse but there are some ideas which just make me pick up the old-school pen and paper. After I draw on paper, I take a high-res photo of the comic and adjust contrast and brightness to make it look better.
The other way it happens is when an editor asks me to draw and there is a deadline. In that scenario, I scour the internet for news and once an idea strikes me, I put my pen to paper. It is tough though because many of such ideas are puns and I realize that they might be good for quick laughs, but they have no shelf-life. Whenever I get a good idea, my job is half done. The drawing and publishing part, happens soon after.
During publishing, one additional thing that I have started worrying about is reserving copyright. I never used to write my name inside the panels of the comic but then I soon found out that people were cropping my name and sharing the images on Whatsapp. It was flattering as well as disconcerting. So nowadays, I try to leave a watermark inside the panels.
Q. You also write fiction and poems and have expressed a desire to be an author. How are you working towards it?
As a creative person and a lover of well-told stories, it has always been a dream of mine to write a good fiction novel one day. I do not consider myself a good poet though because there's a certain grammar to the art which I can hardly adhere to. Limericks and free verses are all fine but I think that the 'Aha!' moment that a good poem can create requires a lot of skill and knowledge which I currently lack.
I am working on a novel these days. I have always liked dark, literary novels having humour arising out of conflict and sometimes even pitiful situations. I think humour arising as a defence mechanism in such situations is the highest and purest form of humour. That's why satire is more than just an art, it is a way of living. My book is going to be a satire on my own aspirations. I have taken jibes at my own professional and personal life. It is semi-autobiographical and hence has some therapeutic value for me. I write around two hundred words a day but then there are days when I don't write at all. It is a work in progress.
7. For the average blogger, how important are the various blogging activities conducted and the rewards offered for the same?
The activities are a big incentive to keep writing. Rewards in any system are quite necessary to give a sense of direction for the unsure minds. I often participate in activities from Blogadda and other platforms. Sometimes I win also and people around me who otherwise would have been dismissive see the gift hampers and keep quiet. These activities serve as a big motivation for the average blogger. They are also important to form networks. I often get congratulatory messages from other bloggers after winning or writing a good post and it does feel good. It makes one feel like a part of a big family.
Q. How can a blogger strike a balance between blogging for a contest/ activity/ review and expressing themselves? Any notes from your personal experience?
Excess of anything is bad. If one keeps posting contest entries on his blog, the individuality of the blog gets lost somewhere. One should learn to compartmentalize. If you're posting reviews on your blog alongside other things, dedicate a separate page for reviews and leave a link on the navigation bar for easy navigation. If you keep endorsing products on your blog, you will lose your audience as you might unknowingly project yourself as a 'corporate sellout'.
The flip-side of this coin exists too. Personal expressions are important but not participating in any activities and just tooting your own horn might cut you off from both- the wonderful reward system offered by sites such as Blogadda and the commercial platforms. So, by not participating in any activity, one might lose out on a major source of traffic for his blog.
There was a phase when I kept participating in all contests, applying for all sorts of reviews irrespective of my choice, it not only made blogging seem like a burdensome task but also made the quality of my content spiral downwards. That was my wake up call and now I only review books in which I am genuinely interested and participate only in activities which fascinate me. Speaking on interesting activities, I am a big fan of the Blogadda WOW prompts and love to participate whenever I get time.
Q. What have been some of the best moments of your blogging career?
Oh! It has been an absolute joyride! The best moment for any writer is when someone appreciates his work. One such moment was when a Professor of Medicine from Canada had written to me way back in 2006. He talked at length about how he thought I was very gifted. I am still friends with him on Facebook and my invitation to host him whenever he comes to India for any conference or vacation still stands. I love it the most when someone far away reads what I write and writes to me with words of appreciation and encouragement. It is a magical feeling. The true power of a blog is visible on such occasions.
Then there was also the time when a few cartoons of mine got published in the Deccan Chronicle (Hyderabad Edition). That was also a giant leap for me.
The time when I got nominated for the 'Top Humour and Satire Blog' award at WIN '14, Blogadda was also quite thrilling.
The year 2014 in general was pretty lucky for me. I won an iPad for #WhatTheBlack activity from Blogadda. The activity #GameOfBlogs too was quite stimulating. I met so many wonderful bloggers from across the country through it. They all are still in touch with me. One of them, Cynthia, recently published a novel. When things like these happen around you, you know you're in top company.
Q. How vital is traffic and feedback for your blog? What would you say has been the best response that you have gotten till now?
As I said, feedback is of utmost importance for me. Increased traffic too is definitely an encouragement. I lament the fact that I do not really have hordes of people commenting on my blog but then, I blame my own poor networking skills for that. I did get some kind words of appreciation on the two love stories that I had written a while back. I also tried starting a comic series on an alien who is writing to his planet after experiencing strange phenomena on Earth. This was much before the movie PK was released. The two parts of it- Part one and Part two were well-received. I feel I am yet to write something worthy of a thumping response though.
11. How do you promote your blog posts? What role does social media play in your blogging?
Whenever I feel I have written something of consequence, I submit the links to Blogadda's Tangy Tuesdays/ Spicy Saturdays. After publishing a post, I share the links on my Twitter and Facebook accounts. I have a page on Facebook dedicated on my blog which serves as just another channel for people to discover my blog. Social media plays a major role in my promotions.
Q. Tell us about your relation to books. You review a wide variety of books. Are those books that you find interesting or ones that are new/ in the news?
I have always loved the smell of old books as a child. My Dad has done his post-graduation in English Literature so, growing up, I had shelves of English Classics at my disposal. I developed a special reverence toward the written word very early in my life. As a kid, almost all major Hindi and English magazines used to come to me and there was never any dearth of stuff to read.
Although I did read pages from different classics and had a big collection of books, finishing novels diligently was never my cup of tea early on. As a recent development, after applying for book review programs on Blogadda and other platforms, I turned into a more serious reader. Now, it has come to a level that I need to read a few pages before I can fall sleep.
Initially, I was just thrilled to add the books to my collection and didn't really discriminate between genres. Now that I have taken a bite out of all the platters, I am slowing drifting toward the kind of books that I like. Although I still am open to reading different genres, my basic requirements from a book have evolved.
To me, an intelligent plot, originality and good language matter the most. Although I am not averse to dramas, thrillers or love stories; darkly humourous tales of human suffering and satires tend to attract my attention more easily. I also do not let go of any opportunity to review books which are in the news. I do it with a sense of duty for the readers of my blog.
Q. Which type of blog posts are your favourite to write? Any blog post(s) that you personally love?
I enjoy most while writing about what I observe in public places. I like making minor observations that entertain the curious mind. There are times when people get philosophical while talking to me. I take those pearls of wisdom and preserve them through my writings in blog posts like these. I also enjoy writing about my tragic love life on my other, less popular blog.
Q. What are your other interests apart from blogging? What do you like doing in your free time?
Apart from blogging, I like reading fiction, cartooning, meeting new people and making friends. I also like travelling but rarely get time for it.
Q. Tell us something about you and your family. Do they read your blogs? What about your friends, colleagues and even patients?
Well, I am a small town guy from the nondescript town of Chhatarpur in Madhya Pradesh. I have done my BDS from Bapuji Dental College and Hospital, Davangere and am currently practicing under a senior's guidance in Gurgaon, Haryana. My mother and father are both bankers. I have a younger brother who is pursuing Masters in Mechanical Engineering.
My Dad is immensely proud of my blog and keeps flaunting it in front of friends and relatives. It is embarrassing and validating at the same time. He even thinks I am a good singer and makes me sing in front of guests. I really wish he took a little less pride in me.
My mom isn't that much into internet stuff. She just thinks blogging is some stupid thing I do to win free Kindles and iPads. She does like my cartoons though. My brother and cousins drop by my blog from time to time but, instead of leaving comments, they just drop me private messages.
Many of my friends are highly appreciative of what I do. They keep asking me questions like how is my blog going and what is the next post going to be about. They tell me which posts they liked and which ones they hated. Their honest opinions keep me going.
A few of them drop comments on my Facebook Wall like, 'Waiting for your next cartoon', or 'Hey! Just read your blog. Loved it!' Those kind little words keep me going although I do wish they posted them on the actual blog! But then, non-bloggers in general are shy people.
I don't think any of my patients know about my blog though. I live another life in the clinic. I am like Batman!
16. What do you think is the future of blogging in India?
It is pretty bright. A lot of people are finding their voices online and blogging as a medium can only grow from here. It provides everyone with a free and fair platform to speak their mind. Whenever I meet someone who has a talent, I urge them to start a blog. There is room for everyone here. It is a medium for everyone from budding pastry chefs, jewelry designers, writers, healthcare professionals to adventure junkies- everyone to showcase what they have and express what they think.
Q. What advice would you give someone who wants to start a blog?
I would say go ahead and do it right now. There is no better time than right now to start doing what you want to do. Make sure you post original content, interact with fellow bloggers, participate in various activities, be regular with your posts and most importantly, have fun! One advice I'd like to offer is that one should not ignore the importance of blog design. Keep it easy on the eye and classy at the same time. Also, always be open to feedback and criticism.
Q. How has your association with BlogAdda been?
Oh, it has been a delight. It has been a direct conduit in my growth as a blogger and as a person. Not only did I win prizes like the Ray Ban aviators and the iPad, I also got featured in activities like WOW, Spicy Saturdays, WIN '14 Humour and Satire Blog of the Year Nominations.
With the Blogadda book review program, my love for books was reignited and I would be always grateful to Blogadda for that. With the vouchers I won in its various activities, I bought many more books to add to my library. I can't thank you guys enough for the encouragement.
Quick questions:
When I'm feeling stressed and want to relax, I…. pick up a good book, turn the music on and order a pizza.
Favourite movie– Chupke Chupke – The 1975 comedy by Hrishikesh Mukherjee.
Favourite book– Em and The Big Hoom by Jerry Pinto
If I had to illustrate my life, the artist would be…. Late Mr. Mario Miranda all the way!
I get inspired by… writings of Indian authors like Amitav Ghosh, Arundhati Roy and Jerry Pinto.
I get irritated by… people who get irritated easily.
If I were a superhero, I would be… Batman! Definitely Batman!
Blogging for me is…. a blank canvas waiting to be struck by ideas, colours and imagination.
Hope you had a great time knowing more about Abhyudaya Shrivastava. As a special treat for BlogAdda readers, Abhyudaya has sketched two comics EXCLUSIVELY FOR US! Take a look at them and let us know what you think.