To shave or not to shave, that was the question. And the answer was a resounding YES! as is clear after the Gillette #WillYouShave activity. After a super activity that saw you blogging and tagging people with gusto, it is now time to announce the winners of #WillYouShave.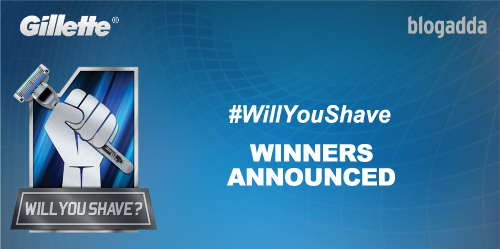 The theme was simple, blog about stories or instances where you missed out on an opportunity because of a ungroomed look. You could also tell us about someone who failed to make a good first impression because of his stubble.
To say that we got interesting responses would be a massive understatement. We don't mean to split hairs (notice how punny we are), but for the duration of these activity, we have seen stories that were funny, heartwarming, touching, stories that made us wince due to lost opportunities, and wait for it, even romantic stories.
You also tagged your blogger friends to join in and get an opportunity to Earn Unlimited, and the tagged bloggers rose to the challenge and blogged for #WillYouShave.
It was a very difficult task to select the winning blog posts, which is why we roped in Raksha Bharadia to read your entries and adjudge the winners.
Raksha Bharadia is the author of All and Nothing, Me: A Handbook for Life and Roots and Wings: A Handbook for Parents. Raksha has co-authored Chicken Soup for the Indian Soul series. She is also indulging her passion for rhythm by learning Kathak. She is currently working on her new book on love, sex, and fidelity in a married couple.
P.S.- If you wish to shed light on the topic dealt with in Raksha's new book, anonymously of course, you can take this short survey here.
OK, so here are the winners of of the Gillette #WillYouShave activity who managed to shave off the competition (tee hee) and win the amazing prizes!
First Prize (An Apple iPad):
Ryan Fernandes for his post He came, He saw…I shaved!
Second Prize (Moto G smartphones):
Oindrila De for her post Stubble Trouble
Saru Singhal for her post O' Men ~ Get It Right
Third Prize (Vouchers worth Rs. 5000):
Anshita Juneja for her post The Fault in Our Beards. Okay? Okay. #WillYouShave
Anmol Rawat for his post Kiss Miss
Maniparna Sengupta Majumder for her post The Stubble Story
A huge congratulations to the winners! And a big Thank You to all of you who participated in the #WillYouShave activity!