Update: We have a judge for the #WillYouShave activity! Read on for more details!
On any important day in a man's life, be it a big interview, a first date, or a family function, he has a check list to be ready & prepared.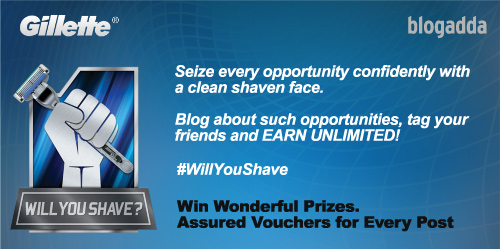 – Well dressed? Check.
– All documents in place? Check.
– Cash and cards in wallet? Check.
– Clean shaven and well groomed? Check.
These are the big days that we know in advance. But do you know for sure, which day of your life might turn out to be the most important day of your life? On turning which corner, you'll meet the love of your life? Where your future employer might spot you.
And on such a day, what would you like to look like? Sporting a lazy stubble, or looking sharp with a clean shaven well groomed face? You decide.
When opportunity knocks on your door, be well prepared and clean shaven to grab the opportunity with confidence.
Presenting #WillYouShave activity, where you have to open your hearts and write about the impact that a stubble or lack of it, has had on the life.
Here are the themes for your blog post-
Opportunities – Stories or instances where you missed out on an opportunity because of a ungroomed look.
Luck or Confidence? Will you leave your fate in the hands of destiny or will you step up and say yes to a well- groomed face to be at your best everyday? #WillYouShave?
Ladies, you have a say in this too! Write a blog post about the men in your life on the following themes.
An instance when a stubble came in the way of a man's chance to make a good impression.
An instance when a well groomed look ensured that they struck gold on an opportunity given to them.
What you have to do
1. Write a blog post on any or all of the themes mentioned above.
2. Submit your blog post URL by clicking on the link below

Instructions to follow
1. The word limit for the blog post is a minimum of 300 words
2. Every participant can submit a maximum of 3 entries
3. Include this line 'This post is a part of #WillYouShave activity at BlogAdda in association with Gillette"
4. The last date for this activity is 31st December, 2014
Now let's come to the most exciting part, apart from the thrill of writing of course- the prizes!
Every participant will get an assured voucher worth Rs. 300.
#EarnUnlimited
Write blog posts on any one or both the themes and win an assured  gift voucher worth Rs. 300. Tag as many friends as possible on your blog to take up the #WillYouShave Challenge.
For every two friends who take up the #WillYouShave challenge, acknowledge you and blog about the given theme(s), you win an additional gift voucher of Rs.400.
Wait! There's more! You also have a chance to win these amazing prizes-
1st Prize: An Apple iPad.
2nd Prize: 2 Moto G phones.
3rd Prize: 3 vouchers of Rs.5000 each/Cash.
Judge Update: The judge for the #WillYouShave activity is Raksha Bharadia!
Raksha Bharadia is the author of All and Nothing, Me: A Handbook for Life and Roots and Wings: A Handbook for Parents. Raksha has co-authored Chicken Soup for the Indian Soul series. Her interests lie in the areas of education, creative writing, and her one hour solo jog with her music player in tow. She is also indulging her passion for rhythm by learning Kathak. She is currently working on her new book on love, sex, and fidelity in a married couple.
P.S.- If you wish to shed light on the topic dealt with in Raksha's new book, anonymously of course, you can take this short survey here.