Laxmi Hariharan is the author of 'The Many Lives of Ruby Iyer', but that's just one of her avatars. She is a blogger and a marketer, award winning e-book writer (her Destiny of Shaitaan won gold at the 2013 Global eLit awards) and a selfie lover. Her blog www.laxmihariharan.com was one of the top five personal blogs at WIN '14. Laxmi spoke to BlogAdda about blogging, her books and the rest of her multi-faceted life.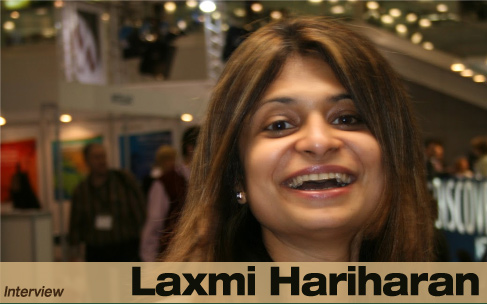 Q: Let's start with the basics- when and why did you start blogging?
I started blogging in 2007. I was one of the earliest on Twitter as well. Initially I put up excerpts from the novel I was writing then – The Destiny of Shaitan. I wasn't really sure what I was trying to say. Until in a conversation with a friend, I realized the theme very important to me then was how the West had become the East had become the West. For no longer could one turn to India for spirituality; instead my home country and home town of Bombay was more engrossed in flipping apartments, making a killing on the stock market, sending kids to an international school, etc. But in my adopted city of London, life ambled along at a more leisurely rate, where you could walk in the woods and not worry that you were wasting time just 'being', if you know what I mean. So that's how I found my voice, initially.
Q: What made you turn to fiction after having a successful blog? Did you think that your blog posts would culminate into an actual book?
Blogging was a great way to actually delve into my own subconsciousness, to find out what was driving me to do what I did. A way of observing myself and understanding my own motivations and what was more important in life. I used my blog to meet interesting people – when I wrote the Inspirational Avatar series. I also found that many of my short stories & flash-fiction would attract a lot of hits. So that gave me confidence that people liked what I was writing.
And later when I started writing Ruby Iyer as a weekly web series, I used my blog to share her journey. It was a great way to get feedback and it first brought to my notice that people were actually responding to her. I wrote the Ruby Iyer episodes because I was simply enjoying doing it. But the response spurred me on to write her complete story as a novel.
Q: Your writing has a lot of feminist undertones. What's the inspiration behind it?
It's interesting. I see myself as someone who wants to be independent and retain my own identity. It's very important to me that I feel free and am able to follow my heart, pursue what I believe in. I don't think I ever outgrew the rebellious teen I was. You could say I want to continue to believe in the power of my dreams. I don't want to let life get in the way, or get bogged down under the weight of my years.
Q: A marketer writing epic fantasy stories- how did that happen? How have your stints as a global marketer influenced you?
Thanks to technology, you can constantly reinvent yourself in the space of a lifetime. I am the one time-trapped in that sixteen-year-old rebellious teen I was but was born old, with an uncomfortable insight through which I see the world; I obsess often about why we do the things we do. Perhaps, that is why I created Ruby Iyer – she starts out terrified, but then chooses to live life on her own terms.
I have travelled and lived in different countries (India, Singapore, Hong Kong and UK) thanks to the different jobs I have had held with MTV and NBCUniversal in particular. It helped assuage the wanderlust in me, exposing me to different cultures, broadened my horizon in so many different ways. Yes I learnt the science of marketing through that but more importantly it also gave me time to explore myself, to find out how important self-expression was to me. It's this that makes me a good writer—and being able to more freely express myself makes me a good marketer. These two alter egos feed off of each other.
Q: Of all the kinds of writing that you do, which are your favourites? Which genre is the most exhausting?
I instinctively write fast paced, slightly futuristic thrillers. My protagonists are normally people in teens and early twenties. That is just how I have always written. So I don't question it any more. Writing the last quarter of my novels is the most exhausting and the most thrilling. I write really fast and normally the last thirty thousand words are written at great speed, in a few weeks. And I write listening to electronica music. So every chapter I write at that fast pace – I live it in my mind and normally emerge from it with my heart racing, wrists aching and sometimes even sweating as if I have run physically while writing it. If you feel the pace of the characters and the wind on your cheeks while reading my books then I think I have done my job.
Q: Do you have a set schedule or a plan about your blogs? Do you try to rotate the fiction, fantasy, Ruby Iyer posts and non- fiction/ current affair posts?
Normally I tend to blog at least once a week. Invariably it's a comment or something someone says in conversation that will trigger a train of thought. If I can't get rid of that particular idea in my head after a few days then I know I have to write it out. So I can write a blog post on that really quickly. When I am in the throes of writing a novel— like when I wrote the Many Lives of Ruby Iyer, in the initial half of the book I will still blog. But once I cross that mid-novel threshold, I focus solely on the book. I find at that time, it's best to not write anything else, but concentrate solely on the book at hand.
Q: Tell us about Ruby Iyer. Was it a conscious effort to address the lack of a strong young adult character who is a girl? What gave rise to the thrilling tale of Ruby?
I didn't think of anything so specific then. All I knew was I was very angry with what was happening with the rapes in India – specifically the rape of the journalist in Bombay in the middle of the city in broad daylight, because I had been a journalist myself not long ago. So I wished for a female robo-cop, a vigilante figure who would take the law into her own hands and protect the women. Robo became Ruby…Ruby Iyer. As a young girl travelling on the local trains of Bombay city I was at the mercy of those men who groped me, felt me up on each trip. I was helpless. Ruby is not.
So this is how 'The Many Lives of Ruby Iyer' was born. As I wrote her story though, I found her life is intertwined with the history of Bombay. It's the 26/11 attack on the city, which shatters her family and causes Ruby to ultimately run away from home. I found out that she is not a vigilante. She is normal person. But she is one young girl who stands up for herself. She does not need anyone to save her, she saves herself.
Ruby's choices are not always correct, yet we empathise with Ruby because she does not hesitate to follow her instincts- whether it is to save another girl from being molested by the Hand who also assaulted her, saving the man who tries to commit suicide from the Bandra-Worli Sea Link or teaming up with the sexy cop Vikram Roy to save Bombay from the clutches of the devious Dr Braganza.
Know more about the origins of Ruby Iyer in this video:
Q: What is Laxmi as a person like? What do you like doing in your free time?
What free time? Haha! At the moment life is a balancing act between working a job, writing on evenings, weekends and holidays and spending as much time as I can with my husband. If I manage to do all three and still sleep enough (and manage to get my daily fix of Twitter!), I am happy.
Q: What is your relationship with Bombay? What ties you to this city, what do you love and hate about it?
Because my protagonists are in their early twenties, and I was a young girl living and commuting in Bombay at that time, all my memories at that age are intertwined with the city. I love the city and hate it. I love it because it gave me enough angst to last a lifetime and enough extreme memories I can draw on to write. I find it fascinating because the dystopian future of novels like Hunger Games is what I find in the Bombay of today, just now. Hence I am fascinated by the urban landscape of the city, its long freeways which pass through suburbs you can't even spell properly, its tall residential towers, each of which feels like a mini township. And I am fascinated with a futuristic Bombay… that's what I try to paint over and over again in my novels.
Q: There is a debate whether blogging is a lucrative profession or not. How do you balance your profession and blogging, and now writing?
Blogging is a form of self-expression, like painting. If you want to plumb the depth of your subconscious to find out exactly what you are trying to say and share with people to see if what you are saying makes any sense to the outside world, then blogging is the simplest route to do it. It is my belief that it's the first step to any kind of long-form writing.
Q: What advice would you give someone who wants to foray into blogging?
Ummm… Just do it!
Q: How important are awards and recognition to you as a blogger/ author?
Of course they are always important as it's nice to be recognised by peers. But even if you don't get awarded…well if you want to express yourself – you blog. And if you have a story to tell, you write a book, right?
Q: Is it difficult to straddle the images of marketer, blogger and author? Do you worry about your brand getting diluted? How do you deal with it?
No. I am all three of them. I am an author, a marketer and a blogger. Why do I want to restrict myself to just one role when I can play all three and more. There is more richness to your place in this world if you are multidimensional. And we live in a complex, multi-layered environment. So we can't afford to be linear either. We need to be as multi-faceted as the world we live in.
Read Laxmi's blog post for #UseYourAnd, challenging one dimensional labels here.
Q: According to you, what is the future of blogging? Where do you see it going in the next few years? Is the blogging scene in India different from, say, the one in the UK? 
The amount of content being out there is only going to grow. So I believe it's quality over quantity which will win. Think through what you want to say, take the time to polish it, make sure it is grammatically correct and keep polishing it with each post. So when someone does read it – you deliver a seamless experience. One stand out post a fortnight is preferable to a mediocre one every week.
The great (and the most challenging) thing about Indians is that everyone has an opinion. So micro blogging aka Twitter is made for us! The level of creativity (especially the Twitter handles!) you see from Indians on this platform is just mind boggling as compared to any other country.
Q: You come from a household conducive to creativity. How much of a factor is that in fuelling your creativity?
Everyone in my family and extended family writes. So it's nice to have that talent run through your genes. But ultimately it's about persistence. To set a routine and stick to it and to keep going back to the next chapter and the one after that until the book is complete. Its hard, tedious work. The question is how much do you want it? Can you challenge yourself and meet that challenge each time?
Q: Tell us about your association with BlogAdda. Any feedback for us?
The BlogAdda team have been fabulous and very supportive. I am very grateful to BlogAdda to have picked my blog among the top five personal blogs in India over the last few years. As I said it's very encouraging to be recognised by your peers.
Now for some quick questions to get the readers acquainted with Laxmi Hariharan-
a. Things that inspire me to write– Electronica music, the Selfcontrol App to block out social networks on my laptop and keeping my phone in another room where I can't reach it.
b. When I have writer's block, I…write myself out of it
c. Blogs I love/ follow– Seth Godin (Seth's Blog)
d. One author's career I would like to emulate– Susan Ee ( Author of Angelfall)
e. If I were 16 again, I would… Never hook up with that horrible ex!
f. One superhero I would like to play– Batman
g. My guilty pleasure is…Smoking a cigar
h. My most epic selfie would be…With Peeta from Hunger Games against the backdrop of Christ the Redeemer at Rio de Janeiro.
Hope you liked this interview with Laxmi Hariharan. Tell us your thoughts in the comments section below!