The 9th edition of IAMAI's India Digital Summit will be held on 14th and 15th of January, 2015 in Delhi, with an impressive list of speakers who will come together to share their knowledge about the ever changing digital scene in the country. The theme of the summit this year is 'Digital India', and in accordance with this theme, over a hundred speakers will hold several sessions over two days, which are guaranteed to be as informative as they are engaging.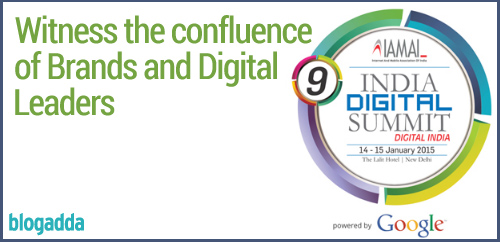 From the time of its conception, India Digital Summit, the flagship annual event of IAMAI has been the largest annual gathering of the digital industry in India. India Digital Summit has proved to be an ideal springboard for mobile and online marketers, entrepreneurs, brand owners, media agencies, e-commerce, Mobile & Internet companies, Technology companies, OEMs, Entertainment companies, Investors, Digital Payment companies, Mobile VAS providers & Digital advertisers amongst others to showcase, network, interact and brainstorm on the possibilities of mobile and digital media.
The list of speakers at India Digital Summit reads like the who's who of the digital world, so take a look at them:
Shri Rajiv Pratap Rudy: Minister of State Skill Development and Entrepreneurship (Independent Charge) & Parliamentary Affairs, Government of India
Brian Parrott: Minister (Commercial), Govt. of Canada
Shri Srivatsa Krishna: Secretary, Information Technology, Biotechnology and Science & Technology, Government of Karnataka
Rajan Anandan: Chairman, IAMAI & Managing Director, Google India
Kirthiga Reddy: Vice-Chairperson, IAMAI & Managing Director, Facebook India
D Shivkumar: Chairman and CEO, PepsiCo India
Ajit Balakrishnan: Founder & Chief Executive Officer, Rediff.com & Chairman Emeritus, IAMAI
Vineet Taneja: Chief Executive Officer, Micromax
Nicolas Brusson: COO & Co-founder, BlaBlaCar
These and many more illustrious speakers will hold insightful sessions over two days at The Lalit, Delhi. These sessions are sure to be useful for everyone from digital entrepreneurs to people who have the remotest connect to the digital world.
BlogAdda is proud to be associated with the one of the country's best and most popular digital summit. The sheer volume of digital know how in this summit is bound to place the delegates at the cutting edge of the digital world.
So if you are in or around Delhi on 14th and 15th January, be sure not to miss India Digital Summit.
You can find more details for India Digital Summit here.