"Light a lamp of love! Blast a chain of sorrow! Shoot a rocket of prosperity! Fire a flowerpot of happiness!"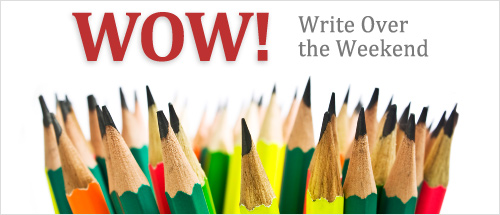 Bloggers, because of the long weekend and the festival time we are giving you the WOW creative writing prompt a little early. We are waiting for your wonderful posts.
Write Over the Weekend inspiration for this time
Write a Letter to someone you miss the most this Diwali.
We wish you a Blogful Deepavali and a Blogosperous New Year, Stay Happy Stay Blessed!
Put your thinking cap, let your creativity flow, and go crazy in your imagination. We are awaiting some awesome blogs from you! This time, leave no stone unturned to make the WOW badge yours 🙂
Remember, you have time only till Sunday midnight!
Include this code:
This post is a part of Write Over the Weekend, an initiative for Indian Bloggers by BlogAdda.
Every weekend, we give prompts for you to creatively write on! Hope you enjoy our creative writing inspiration for this week. 🙂
All those who are featured in WOW can now flaunt the WOW badge on your blog. Download your badge now!