Yesterday morning we celebrated blogging on twitter by trending #CelebrateBlogging on twitter. Thanks to all of you for making it happen. Game of Blogs enters into the final and the most difficult round. What do we have in store for you? Read on…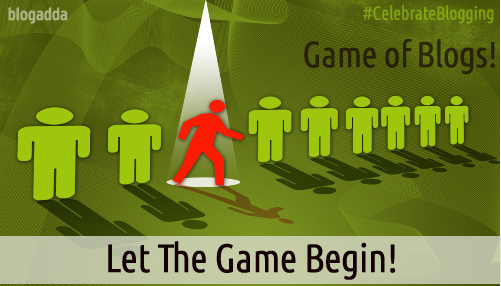 Each team and each blogger has a story to tell. We know that. As we reach the final round of 'The Game Of Blogs', the going is to get tough. What is the fun otherwise, No?
"How did it get so late so soon?"
"No matter how far you have gone on a wrong road, turn back."
"I may not have gone where I intended to go, but I think I have ended up where I needed to be."
Three powerful lines. Three important avenues for progress of your story. Use these three lines and introduce a twist in your plot.  These three lines can be used in the beginning, end, middle, or wherever in your story. It is an open creative playground for you. The world awaits  the birth in splendor of stories and characters emerging from multiple keyboards working in synchrony.
The Final round starts on October 2, 2014 and ends on October 10, 2014. (You have 9 days). 
All other rules remain the same.
WILDCARD Round!
As we promised, there is something special for all those teams who did not make it to the final round. Here is what we have for you.
All teams can continue their story,
The Wildcard round starts on October 2, 2014 and ends on October 8, 2014.
A special Jury will pick the top 2 teams from the wildcard round.
These teams will join the top 10 teams and be in contention to get the book published.
We invite to continue to #CelebrateBlogging alongwith the celebrations of the festive season. Let the sweets and words just flow. 🙂
Go for it!