He is happiest, be he king or peasant, who finds peace in his home – Johann Wolfgang von Goet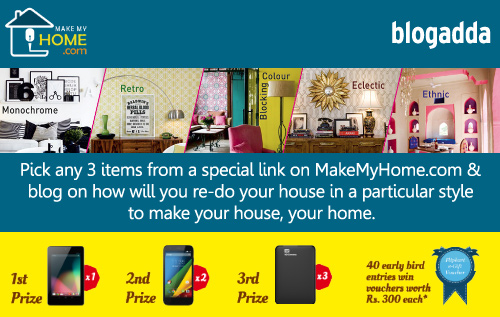 ​The four walls of our home are the silent witnesses to our laughter, cries, anxieties and oh yes, the celebrations! Each corner of our home has its own stories built in brick by brick.
We, with makemyhome.com, give you a chance to be even more proud of your home. Come on, here is your chance to make your house, your home!
Here is what you have to do:
Click on this link.
Pick any 3 items to give your home a creative spin
Choose a theme that suits your style. For example: chic, contemporary, ethnic, casual, among others.
Blog using these three items and make the corners and walls of your house smile. 🙂
What do you win?
The Best entry will win a Google Nexus 7
2 runner up entries will get a MOTO G
Next 3 Awesome entries will get 3 portable WD 500 GB hard Disks
We are also giving away Rs 300 gift vouchers for the first 40 entries!
Don't miss this opportunity. Blog now!
Let's give it to our home 🙂
Steps to participate in the contest:
1. Write a blog post based on the theme.
2. The blog post should be of atleast 300 words
3. Include the following code in the HTML section of the blog post
This post is a part of Makemyhome activity at BlogAdda.com
(Need help in including the code? Click here for both WordPress and Blogger.com)
4. You can submit upto 5 entries for this contest
5. Last date to submit the entries is 3rd September, 2014 before midnight
6. Click on the submit button below to submit your post