"Without leaps of imagination or dreaming, we lose the excitement of possibilities. Dreaming, after all is a form of planning"
― Gloria Steinem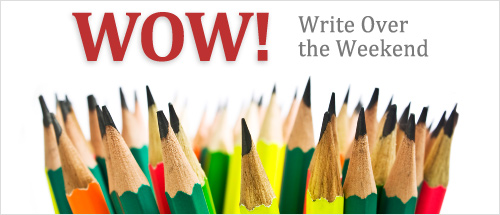 Bloggers, we love how you wait for our WOW creative prompts each weekend and send in such wonderful posts every time.
Write Over the Weekend inspiration for this time
Sample this: You get inside an elevator, closing the door but then someone hurriedly opens it and gets inside. That someone happens to be the person you wanted to meet all your life! So what will you do if this elevator breaks down for 10 minutes? How will you use this golden opportunity?
Come on, get your creative juices flowing, rack your brains and go crazy with your fantasies! We are awaiting best creative blogs from you!
Remember, you have time only till Sunday midnight!
Include this code:
This post is a part of Write Over the Weekend, an initiative for Indian Bloggers by BlogAdda.
Every weekend, we give prompts for you to creatively write on! Hope you enjoy our creative writing inspiration for this week. 🙂
All those who are featured in WOW can now flaunt the WOW badge on your blog. Download your badge now!
You can check the list of the picked WOW posts for last week at http ://forum.blogadda.com/discussion/377/wow-today-is-the-last-day-of-your-life
To read more about WOW, visit https://blog.blogadda.com/2012/09/28/write-over-the-weekend-wow-indian-blogs